When it comes to affordable watch brands, especially dive watches and skeleton dials, two names that will inevitably come up often are Stuhrling and Invicta.
These two brands are known for their budget-friendly watches while still providing their customers with dependable quality timepieces. The question we will be answering today is: which one of the two offers the best bang for your buck?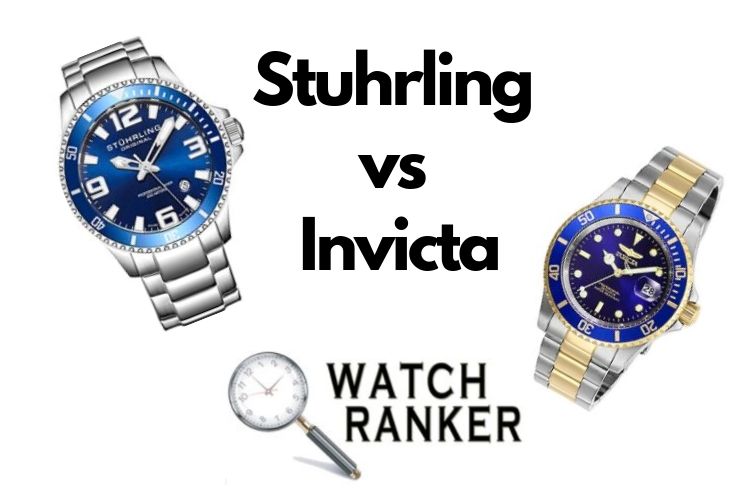 To do that, we will be going through a quick overview and history of the two brands. We will also be pitting two of their best watches in a specific category to get a better grasp of the difference in quality.
History of Stuhrling

While Stuhrling may not be in the same league as other top names in the watch industry like Seiko and Casio, they have managed to carve their niche in the market. Stuhrling is also a relatively new name in the industry. The company was first founded in 1999 and was named after Swiss watchmaker, Max Stuhrling.
One quality that helped Stuhrling find and secure their place among the best low to mid-range watches is their impeccable delivery of chronograph watches. They have also developed a signature feature for their brand – the moon phase indicator.
Stuhrling also captured the characteristics of their namesake. Max Stuhrling built a reputation for his innovative watchmaking techniques. This quality was, fortunately, not lost in the company as Stuhrling watches are well-known for their blend of traditional and modern watchmaking technologies and design.
A quick glance at Stuhrling's wide selection of watches will prove their goal of providing unique and innovative time-keepers. Each watch from Stuhrling all offers something different, whether it is in aesthetics or functionality. With that, Stuhrling has become the brand for watch collectors looking for the best variety when it comes to timepiece designs.
History of Invicta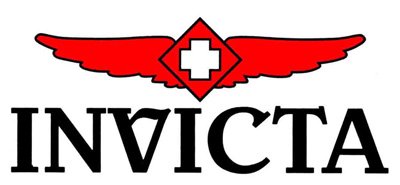 Compared to Stuhrling, Invicta has been a much longer history albeit interrupted. Invicta was founded and first began production of their watches way back in 1837. This Swiss-based company maintained a solid footing in the world market up until the Quartz revolution in the 1970s. Invicta was forced to the sidelines during this period, and it seemed that the veteran watchmaker has finally met their end.
Surprisingly enough, Invicta managed to reinvigorate itself and return in 1991. Invicta quickly adapted to the current state of the watch market and managed to find a place with being a very popular watch brand today.
Today, Invicta is well-known for its impressive array of watches that all come at affordable price points. They have expanded their repertoire and now provide a wide variety of budget-friendly watch types from divers and chronograph watches. If you are looking for a trustworthy watch brand that won't break the bank, Invicta is the right place to start looking.
Stuhrling and Invicta Watch Comparisons
We will now be comparing some of the top watches in each brand's catalog. We will be taking one watch model from a specific category and compare them with each other to determine the difference in terms of quality, performance, functionality, and design.
Aviator Watches
As the name implies, this type of watch is designed for pilots as it can assist in calculating and conversions with not only time but fuel and distance as well. This is a specially designed watch with unique features exclusive to its kind and is a perfect companion for any aviators. Both Stuhrling and Invicta are known in aviator-circles.
Stuhrling Original Men's 699.03 Aviator Watch
Read reviews on Amazon | See on Stuhrling
This stylish military-style aviator watch from Stuhrling is constructed using a solid steel case, the 699.03 Aviator Watch is one tough son of a gun. The watch is also incredibly reliable thanks to its top-notch inner workings.
The Stuhrling 699.03 features the ever-reliable Japanese quartz movement which guarantees its precision. It uses skeleton hands and textured dials which all complement the overall aesthetic it is going for. The watch also comes with a day and date display that is accentuated with yellow contrast for added discernibility against the all-black face dial.
The 699. 03 Aviator watch is not only designed for the sky though; it also has a water resistance of up to 330-feet, making it ideal for swimming and snorkeling. The watch measures 44mm and features a bezel with luminous digits and stick markers.
The watch is secured via an alligator embossed leather strap that is 22mm wide. The strap features easy to use buckle closure and a fluted crown. The dial is protected using Krysterna crystal, which is scratch and shatter-resistant.
Invicta 17203 Aviator Stainless Steel
The Invicta 17203 Aviator watch features a more luxurious approach to its design. The two-toned stainless steel and 18K rose gold case is undoubtedly made to turn heads. The shiny blue dial with a red and gold accent also adds to the overall elegant vibe of this aviator watch. In regards to style, the 17203 delivers and passes with flying colors.
The Invicta 17203 is also designed to be water-resistant for up to 320-feet, which makes it suitable for light swimming but not serious diving expeditions. It incorporates a 48mm stainless steel case, so do not expect this watch to be lightweight. The dial is protected using a synthetic-sapphire crystal window, which is quite durable and scratch-resistant.
As for what is inside the Invicta 17203, you will be satisfied to know that it also uses Japanese quartz movement with analog display for optimum precision. This watch comes with a stainless steel link bracelet and fold-over clasp, completing the luxury appeal in its design.
Best Aviator Watch – Stuhrling earns the number one spot in this category. The Stuhrling 699.03 comes with aviator specific features designed to assist pilots in maneuvering up in the skies above. The Invicta 17203, on the other hand, offers only the basics in this aspect. However, Invicta 17203 manages to exceed the Stuhrling 699.03 when it comes to its aesthetics.
Divers Watches
Diver watches are exactly what it sounds like, timepieces designed to be highly water-resistant and perfect for use underwater. Stuhrling and Invicta also have some great clocks in this category.
Stuhrling Original Aquadiver Regatta 395.33U16 Watch
Read reviews on Amazon | See on Stuhrling
Stuhrling Original Aquadiver Regatta features a fairly traditional design. However, this diver's timepiece is packed with innovative features that will enhance its overall functionality. The Aquadiver Regetta's craftsmanship is on point, for such an affordable price tag this is quite surprising. It certainly captures the air of luxury that watches two times its price tag delivers.
The watch features a triple-row two-toned link bracelet connected by a deployment clasp. As for the stainless steel case, it comes in at 42mm and features a unidirectional blue bezel with markers for timing the minutes you spend underwater.
Since this is a diver's watch, it has a pretty decent water resistance of up to 656-feet. Additional features include a date window which is located in between the 4 and 5 o'clock position. The hour and minute hands incorporate a "sword-like" appearance and are coated with a luminescent finish for improved visibility underwater.
Precision is also a non-issue here as the Aquadiver Regetta uses the Swiss Quartz movement technology: The Harley Ronda 515 with one jewel. Overall, this watch certainly earns its spot as one of the most reliable mid-range diver's watches in the market today.
Invicta 15488 Subaqua Automatic
Invicta delivers in both functionality and style with the 15488 Subaqua Automatic watch. This ion-plated stainless steel 50mm diver's watch features a robust appearance that is not just for show. As far as reliability is concerned, the Subaqua Automatic is a must-have for individuals who enjoy serious water activities.
When it comes to its water resistance, the Subaqua quickly blows most of its competition out of the water. The stainless steel watch is designed to have a water resistance of up to 1,640-feet. This impressive quality makes it a dependable companion to have during scuba diving.
The black dial surrounded by a beautiful blue bezel fits perfectly for those who want something functional and stylish. Additional features include a date display and chronograph functions (12 hours, 30 minutes, 60-second sub-dials). A flame fusion crystal window also protects the dial.
Best Divers Watch – I'll give the nod to Invicta here. The Subaqua's impressive water resistance alone is a unique feature that is rare to see in its price bracket. The Stuhrling delivers a more grounded and budget-friendly divers watch that brings all that you need, while Invicta provides a more refined and feature-packed choice for a reasonable price.
Conclusion: Stuhrling and Invicta – Which Watch is Better?
Overall, Invicta's watches from its "Swiss-Made" are certainly a more recommended choice and the brand does manage to one-up its competition with the sheer number of variety it offers with themed watches from Star Wars and Marvel just to name a few.
However, when it comes to budget-friendly quartz watches for enthusiasts the brands offer similar quality and value. Much of it will come down to personal taste – Invicta definitely goes for the more brawny aesthetic with heavy case builds, large oversized crowns and buttons and busier dials whereas Stuhrling tends to go for sleeker lines and more subdued designs.