The Americans is a period spy thriller series that ran for six seasons on the FX Network. It stars Keri Russell and Matthew Rhys as Elizabeth and Philip Jennings, two KGB spies posing as an American couple residing in Washington D.C.
The show is one of the hidden gems out there and is well-received by both critics and audiences, as proven by the show's multiple Emmy nominations. With its 1980s Cold War setting, you can expect the series to go through a maze of twists and turns that will keep you at the edge of your seats.
The series also managed to obtain two Peabody Awards during its run, a rare feat for a drama-thriller series. The nostalgia that the 80s setting brings to the table is also a treat for fans of period piece TV.
For those who love watching spy thrillers, The Americans are definitely what we consider a must-watch TV. In this article, we will be looking at the notable watch brands that make an appearance in the series. But before that, let us go through some nifty little factoids about this nail-biting spy vs spy series.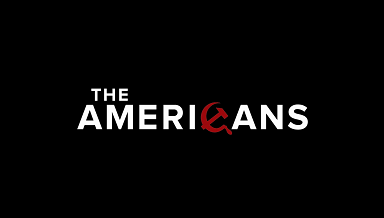 Inspired by Real World Events
During the height of the Cold War, paranoia was pretty much prevalent in both the U.S. and Russia. The notion of spies infiltrating your community was not as far-fetched as it is today. In fact, during the Cold War, that is a guarantee.
The Americans take inspiration from several incidents involving covert operations and espionage from decades ago to as recently as 2010. The showrunners decided to set the series in the 1980s as that was the period wherein paranoia between the two countries was at a fever pitch.
Kerri Russell Almost Passed Over the Role of Elizabeth Jennings
It took some convincing, but Kerri Russell finally agreed to take on Russian spy Elizabeth Jennings. Once Russell saw the depth of the character and story, she said yes in a heartbeat seeing as she has something special in her hand.
The CIA Gives Inputs to the Script
Joe Weisberg worked for the CIA shortly after his graduation, so he understands his fair share of the government organization. Due to this connection, the CIA has made requests to review each episode's script before shooting. Throughout the series' six-season run, not once did the CIA ever requested a change in the writing.
The Story Grounded to Reality for the Most Part
Real-life espionage tends to be a tedious job, as revealed by former CIA agents. Of course, that is not a recipe for good television, so The Americans heightened the drama and action. For the most part, though, the show portrayed actual espionage methods as close to accurate as possible.
Some of the Actors Were Given a Go at the Director's Chair
Both Matthew Rhys (Philip Jennings) and Noah Emmerich (Stan Beeman) were given directorial responsibilities in the series. Like shows such as Friends and Breaking Bad, some of the cast were allowed to direct some episodes. Rhys directed episode 7 of season 5, while Emmerich directed episode 5 of season 4.
Watches Worn in The Americans
Philip Jennings (Matthew Rhys)
Certina DS-2 Turtle Dive Watch (SO490)
This particular Certina DS-2 Turtle is a 70s model, making it a good candidate for the timepiece worn by Philip Jennings in the series. As the name implies, this Certina timepiece features an exciting case design that takes a turtle shell-like or tonneau shape watch case.
The stainless-steel polished case comes with a measurement of 37.5mm, which is surprisingly sleek for its design. Underneath the vintage hood is a Swiss mechanical 17-jewel caliber 25-66 movement with an analog dial display.
The dial features a somewhat minimalist design with a combination of index and Arabic hour markers. There is also the broad hour and minute hands, which adds a professional charm to the dial.
An acrylic crystal window also accompanies the case. Alas, this timepiece is not water-resistant at all, so refrain from exposing it to any kind of moisture.
Seiko Recraft SNKM97 Automatic Watch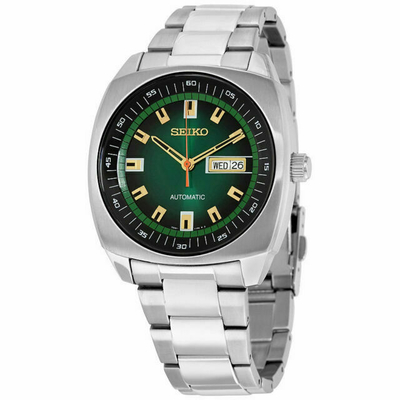 It is also possible that he is wearing a Seiko Recraft. Based on the overall shape of his timepiece, the Seiko Recraft is an excellent alternative that you can easily find today. This Seiko timepiece features a highly refined design with its dark green and gold dial. It also incorporates that turtle shell or tonneau-shaped case that further adds to its handsome aesthetics.
The Seiko Recraft features a 43.5mm stainless-steel case making it considerably more prominent than the Certina DS-2. The Seiko Recraft is all about class. Its automatic 21-jewel movement with a power reserve of 41-hours is just as reliable as well.
The watch movement excels in precision with its 21,600VPH and a decent 50-meter water-resistant rating. The case scores top-marks with its durability with its use of Hardlex crystal, known for its high level of scratch resistance.
The Recraft also comes with a day and date display and is one of Seiko's distinguished watch models.
The Assassin (Chris Sullivan)
Lucien Piccard Adamello Stainless  Steel Watch (11567-02S)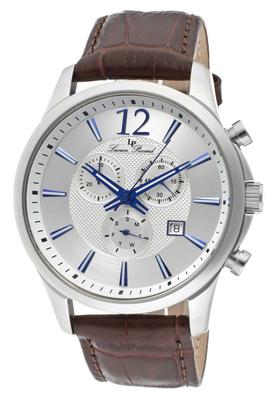 In episode 8 of season 1, we see an assassin, played by Chris Sullivan, working his way through his targets. There is a specific scene where we get a clear up-close shot of the timepiece he is wearing, and it is surprisingly nice-looking.
After some digging, we found out that the timepiece worn by the assassin is an "Adamello" Chronograph by watchmaker Lucien Piccard. Not the watch we would expect a cold-blooded hitman would wear, then again, don't judge a book by its cover.
The Lucien Piccard Adamello is a classy timepiece with a textured dial face and chronograph functionality. It features a 43mm stainless steel case and 50-meters of water resistance.
Underneath the sophisticated aesthetics of the case lies a Swiss quartz movement to provide excellent precision. It also displays a stunning silver-tone with a blue accent design that gives it a relatively pristine charm. Ironic that a ruthless assassin wears it, but I guess it helps with creating an incognito appearance.
---
If you like this article, check out the watch spotting on other popular TV series: