One of the most critically acclaimed shows of all time, Breaking Bad, is a crime drama created by Vince Gilligan, airing on the American AMC network from 2008 to 2013. The show follows the story of Walter White, a science teacher-turned-drug kingpin, and his former student/partner Jesse Pinkman.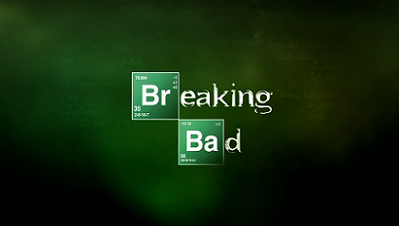 While the show is not big on fashion themes, it does feature two important watches worn by Walter, both of which have special meanings. The show's creator Vince Gilligan always used a lot of these symbolisms—his attention to detail is one of the things that has gained the show loyal fans.
In this article, we will take a closer look at these two watches and talk about how and when they were worn on the show. While we will talk about several scenes from the show, you don't need to be a fan to appreciate the watches (although they might be good enough reasons for you to start watching).
Below are two of Walter White's watches that we spotted on the show throughout its five seasons, both of which bearing significance that any fan of the show would recognize and enjoy discussing. We will talk about some of the watches worn by other characters and some models that were spotted on one of the show's actors.

Watches Worn in Breaking Bad -Walter White
Casio CA-53W – Walter White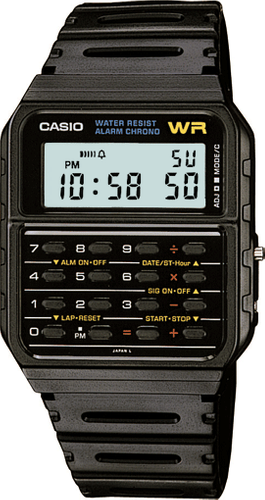 Played by Bryan Cranston, Walter White is introduced as an underpaid high school science teacher. Dressed in khakis and collared shirts, he is seen throughout the first few seasons wearing a simple Casio watch—a calculator model from the 80s.
The watch in question is a Casio CA-53W, which has a rectangular shape and has a small screen at the top. Below this are 8-digit calculator buttons with other extra features a 24-hour 1/100-second stopwatch, a full auto-calendar, daily alarm, hourly signal, and a dual time mode. Its water resistance can take minor splashes but is not recommended for swimming.
This is from Casio's Databank line and was introduced by the Japanese watchmaker in 1984. This is similar to the famous watch that appeared on Back To The Future in 1985. We also talked about this and other Casio models in our article on Iconic 80s Watches.
This watch shows Walter's simplicity, which will change once he finds out that he needs to battle stage 3 lung cancer. Driven to provide for his family, he produces crystal meth with Jesse. The rest of the show shows how he would slowly become ruthless and merciless—and eventually become one of the most notorious drug lords in the state.
Tag Heuer Monaco – Walter White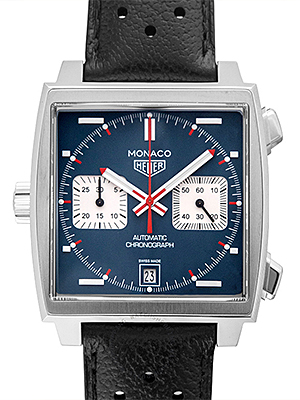 Then, there's the dark side—the watch that shows up towards the end of the show.
One of the most popular watch scenes on Breaking Bad highlights the Tag Heuer Monaco, a watch that stands out because of its unique square shape, sharp colors, and of course, the hefty price tag.
On the fourth episode of Season 5 ("Fifty-One"), the watch is given to Walt by Jesse for his 51st birthday. This watch symbolizes an upgrade, as well as a foreboding—a sign of how bad things will eventually unfold.
In the 54th episode, Walt organizes synchronized murders in different prisons, with the goal to kill all potential witnesses.
There's another Tag Monaco that's worth noting: on the show's finale ("Felina"), there is a scene where Walt goes back to Albuquerque after months of hiding from authorities and stops at a gas station. While using a nearby payphone, he takes off the watch and leaves it on top of the booth. An article on Screenrant says that this is merely a continuity issue with the writing sequence, but Bryan Cranston says that there's a more symbolic explanation–that the act symbolizes that he is transitioning and leaving the past. Read more here.
According to an article on A Blog to Watch, the watch on the episode is a Tag Heuer caliber 12 ref. CAW2111.FC6183.
This model has a very close design to the original Monaco popularized by actor Steve McQueen, who was first seen wearing the watch in the movie Le Mans (this was later sold at an auction for about $800,000).
We have talked about the Tag Heuer Monaco on our site. It's included in our article about the watches in Ford vs Ferrari, Watches for Car Enthusiasts and F1 Inspired Watches.
We also have a feature on some of its more affordable alternatives and homage models.
IWC Portugieser – Gustavo Fring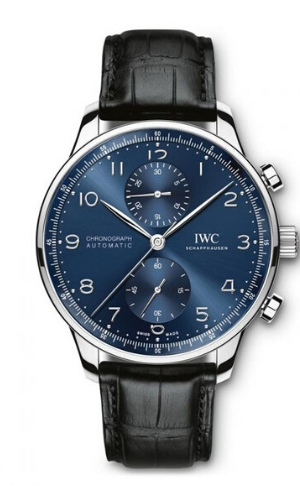 Gustavo Fring is one of the show's most notorious villains. He is the owner of the fast-food chain Los Pollos Hermanos, which he uses to secretly distribute meth through the southwest.
An article on Oracle Time about movie/TV villains and their watches shows Gus wearing an IWC Portugieser. It's a luxury watch, but it's not flashy, which is perfect for someone who wants to remain understated.
The watch he was spotted wearing looks like a Portugieser Perpetual Calendar 42, an automatic watch with a perpetual calendar and date, month, leap year, and perpetual moon phase display. This model has a silver-plated dial and runs on the IWC 82650 caliber Pellaton winding system with a power reserve of up to 60 hours. The strap is a brown alligator leather by Santoni (you can read more about the Italian leathermaker here). IWC-manufactured 82650 caliber's Pellaton winding system
Cartier Ronde Louis – Aaron Paul


This is another watch that is not on the show but is worn by one of its main actors. According to an article on Gentleman's Journal, Paul received a Cartier watch from AMC after winning the Best Supporting Actor award in the Emmys.
The watch, which is believed to be a pink gold Cartier Ronde Louis, is priced at nearly $10,000—a watch well-deserved by a talented actor who made the show a hit.
You can also browse our site for similar topics if you like this article.
We also wrote about watches used in shows like Mad Men, Stranger Things, and Succession. There's also a feature on Iconic Watches Worn In Movies (Hollywood Watch Spotting).
Europa Rare
This watch was not featured on the show itself but is worth mentioning. According to the description published on Worth Point, this is a Europa watch that was given to some cast and crew members of the show in 2008 as a thank you gift for a job well done. The watch looks like it's owned by someone who sold or gave the watch to the cast/crew member.
Not a whole lot is known about the actual watch specifications, but the description explains that it's a custom piece. The watch is an analog model with a bezel with five-minute markers, and it also appears to have a leather strap.
---
Check out watch spotting on other tv shows: