One of the most remarkable kinds of watchmaking is witnessed in the manufacturing of women's watches. It's quite a difficult feat that requires strict measures to meet the feminine requirements of elegance and quality at the same time.
There are only a handful of brands that have reached this mark of success in making beautiful watches for women. One such company is Michele that established itself as one of the leading brands of chronometers for women.
All the diamonds that you see on Michele watches are real gemstones sourced from non-conflict regions. When you look at it, this fact alone makes these watches absolutely elegant and one of their kinds.
Michele watch is a premium watch brand that has caught the eye of many watch lovers. The brand doesn't only woo women with its stunning looks but also through the promise of superior craftsmanship and magnificence in performance shown by the watch inbuilt, form and design. The brand has succeeded in attracting a niche market for itself in remaining a trusted brand of elegant timepieces for women.
Michele Brand History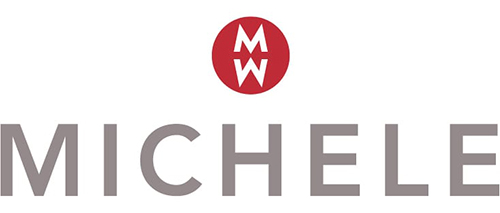 When a company starts with compassion, instead of having money-making intentions, it is bound to have a set of firm values. The very same set of values has been apparent throughout the brand's history and has not been comprised to date.
In the 1940s
The company's story began in 1940 with a Belgian watchmaker Marice Barouh who believed in using only the highest quality materials and kept challenging its skills as an artisan to produce watches. He focused on only producing the best of the best which in turn reflected his devotion to watchmaking craft.
In the 1990s
Later Barouh passed on the company to his son Jack who had a quick grasp of new fashions and trends and took the company to a new level. Jack inherited the same values and passion for horology from his father. The company in his era was able to produce timeless pieces that distinguished them for contemporaries.
Jack and his wife named the company 'Michele' after their daughter. They started designing children's watches that got surprisingly popular. The couple then moved to Miami and increased their watch offerings and collections.
In the 2000s
In the 2000s, Michele Barouh joined the company. Today she is the creative director and guiding the company's vision. She has proved true to her fathers aesthetic's as well and has continued to create timeless pieces with exceptional quality and fashion-forward designs.
In 2004
By this time the Michele watches were not only known for their colorful and beautiful designs but also their functionality and craftsmanship. In 2004, the company was acquired by the Fossil group which offered even more certainty of the quality. Fossil groups aimed to increase the international distribution of watches, and Michele maintained the brand name by persistently delivering cutting edge international fashion trends.
This is a relatively younger watch company that has quickly risen to the top of a woman's luxury brand of watches. Today, Michelle watches offer highly customizable dial options and strap combinations. So much so that it might seem like the brand has a watch for every woman, customized to their preferences.
Michele Watch Collections
If you visit Michele's website, you will see all of the watches carry the company's signature elaborate style. They are ravishingly set with multiple diamonds and pearl textured dials. You will get a wide range from casual, formal to party wear. The brand's two main collections are:
Carousel Collection
Read Amazon Reviews | View on Michele.com
Carousel displays colorful timepieces and puts the fun back in fashion. You won't just find gaudy colors, but the accents placed together in a way that the watches do not lose their elegance. The most noteworthy timeless pieces from this collection are the art of deco diamond bracelet watch, deco sports watch, serene mini diamond watch, and deco carousel diamond watch
Art Of Deco Diamond Bracelet Watch
Read Amazon Reviews | View on Michele.com
Do you love diamonds? This is the watch for you. This watch flaunts a gorgeous gold and silver design with nearly 300 diamonds, glimmering on its surface. The face is made of sapphire crystals, and there is an adjustable band with convenient clasp closure. The watch further has a stainless steel and gold plating. This is Michele's best swiss made watch especially if you love jewels inspired designs. But as the design and features speak, it's quite an expensive watch.
Deco Sport Watch
Read Amazon Reviews | View on Michele.com
This watch possesses an active and casual style and is a head-turner whether you are in a grocery store or a sports club. This collection does not feature diamond and gold accents and this is the reason why it's relatively affordable as well. It's a lightweight watch with silicone straps and buckle closure and stainless steel with water-resistant features offering three hands, date window, and gold bezel.
Serein Diamond Watch
Read Amazon Reviews | View on Michele.com
The Serein series in this collection flaunts its elegant diamond designs. These designs are brilliant with 100 diamonds hand placed around the frame and 18k yellow gold plated and stainless steel swappable bracelet. With roman numeral, sapphire crystal face, this swiss made watch is absolute eye candy.
Deco Carousel Diamond Watch
Read Amazon Reviews | View on Michele.com
If you are hunting for a watch that has it all, the colors, the shimmer, the quality, the heritage, this one will steal your heart. The most eye-catching feature is the rainbow shimmering topaz, its refined arrangement of diamonds and the frame. The watch showcases an array of 22 topaz stones so of course it's priced high justifying these features.
The Sidney Classic Collection
Read Amazon Reviews | View on Michele.com
The Sidney classic collection encompasses an ageless style for these timepieces. It has swappable bands, with mother of pearl dial and premium diamonds. This watch set is made of 117 handset diamonds and shimmering rose gold metals. It has a sturdy butterfly clasp closure and sapphire crystal face. The series offers a variety of colors and you will probably find it hard to choose from this collection.
If you are someone who loves jewel and better yet loves to wear these charms occasionally, Sidney is as good as it gets. You can see the Sidney classic collection here.
Michele Brand Reputation
When it comes to fashionable watches, Michele company seem to rarely disappoint users. Michele watches have long been known for introducing timeless quality watches that are not only timepieces but also fashion accessories. Their design philosophy embodies a synthesis for eternal elegance and modern fashion that appeals to the fashionistas of today and watch lovers of all ages, like you and us.
Part of Michele watches success is its superior craftsmanship and the team that has been working constantly to provide these quality and sophisticated collections. The watches are by far the best in terms of technique and quality. For sure, the dedication has remained the same even today.
After the acquisition by the Fossil Group, the company became more focused and enthusiastic about its watch features and incorporated some new lines of watches like Deco and Sidney which gradually led to an increase in their distribution system across the international market. With 67.4k Instagram followers, the company makes sure to market their watches well. One can imagine the brand's popularity by the fact that it has a knack for being called 'Insta watches' – that's how elegant they are.
In short, Michele has been very successful among the niche but just like any other brand, it has welcomed a few critics as well.
Users are skeptical given the fact that although Michele watches are amazingly elegant, the brand does not enjoy the same name and history of watch manufacturers like Rolex or Cartier, so in their view, Michele brand lacks a watchman heritage. The brand in comparison is not considered prestigious enough. So naturally, if they are investing thousands of dollars on a premium watch, they would like to have a feel of a name that has a certain history and heritage attached to it.
On the contrary, when you look at the history if Michele, you will find that that company is no less than any other premium prestigious brand and its easily available at Saks, Nieman Marcus, and Bloomingdales just like all the other fashion brands. The watch arguably has more bold and fun designs compared to Seiko, citizen, Rolex or Cartier.
According to some other views, Michele watches are sought after for their quality quartz movement, lively features, and a classy feel, but there are mixed opinions about the durability of the watch. If you plan to invest in a fashion watch without breaking your bank, it's better to get a Michael Kors watch which is also owned by the Fossil group. But for a more elegant watch to flaunt a luxury style, Michele brand should be your pick.
Is Michele A Good Watch Brand?
Fossil acquired Michele watch to get into the market of the fine luxurious watch and Michele benefited by getting its reach to a global level.
Michele brand no doubt has made its mark in the fashion industry rapidly. It has a history of producing chic and luxurious watches for women. The watches are based on the backbone of quality and stylish interpretation of modern timepieces.
These watches are luxurious timepieces that possess superior craftsmanship and are great in terms of their quality. The company recently also tried to make hybrid watches which were, let's say, not that bad. The watch blends the elegant style of an analog with features of a smartwatch. The hybrid watch works with Michele connected app for android or iOS.
The watch users' opinion has a stunning design and good performance but for some, the price tag is too high. The latter users, Fitbit or Misfit with minimalistic design and the focus on only tracking activity would be a good option.
According to business insider, Michele was ranked one of the top 5 most popular woman fashion watches. It's considered a young company and style-wise could be considered a competitor of Movado. Both the companies provide a testament for providing watches for the modern woman.
Other companies that compete with Michele are Michael Kors, Cartier, Kate Spade, Marc Jacobs, Tory Burch, Louis Vuitton, Ralph Lauren, Givenchy, and other fashion watch companies.
For someones who likes to be the center of attention, Michele watches will get you there. The extra shiny watch with gold and diamond embedded all around the dial oozes confidence and style. But many say their style is similar to that of Cartier watch so many users think it's smart to invest in a Cartier as compared to Michele for the brand name and heritage. On the other hand, the market segment that seeks premium features under a budget. Micheal Kors is mostly an alternate.
Michele Watch Warranty
Michele watch has a warranty for two years from the original date of purchase. The warranty covers material and manufacturing defects. A copy of receipt or proof of your purchase is required to avail of this offer.
Where to Buy Michele Watches?
Michele watches are available online on the brand's official website or at retail stores like Amazon, eBay or Saks (see Saksofffifth for discounted Michele watches). You can visit their website to access the list of their partner retailers.