Belgium is the home of our beloved chocolates, waffles, and beers. Even french fries are believed to originally came from this country and not France. More so, the word spa came from Belgium. There was actually a small town named Spa that is known for its cold springs where people would come to bathe for health and healing purposes. For agriculture, Belgium contributed the sprouts, a kind of vegetable that was first grown in Belgium's largest city.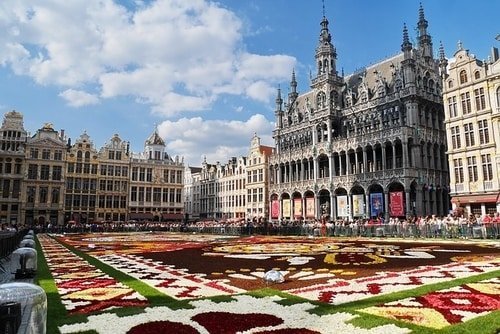 There are other interesting facts and significant contributions of Belgium to the world. When it comes to watchmaking, it sure did help shape the industry as well.
Top Belgian Watch Brands
Raidillon

Raidillon is a brand that is 100% Belgian and was established in 2001. Raidillion timepieces are all inspired by racing and cars. In line with this, the brand name itself was even taken from the Raidillon curve at the Spa-Francorchamps race track.
Still patterned after the Spa-Francorchamps race track where a maximum of 55 cars can compete at a time, the Raidillon brand only produces 55 timepieces per model. That makes each one truly a limited edition. In fact, every Raidillon watch is engraved with its own serial number.
Another noteworthy fact about Raidillon timepieces is that they are all equipped with Swiss movement manufactured by ETA SA. They also feature innovative designs and made of premium quality materials. All these are masterfully combined in conformance with Belgian craftsmanship.
Check out Raidillon timepieces on this link.
You can also search Amazon for available watches or search eBay here for Raidillion models.
Ressence Watches
Ressence Watches easily stand out among the multitudes of watch designs. Why? Because of their continually revolving disc and subdials.
This one-of-a-kind concept came from the creative mind of Benoît Mintiens. Aside from the unique concept for watches, he has also designed trains, aircraft cabins, medical equipment, leather accessories, and hunting guns. Evidently, Mintiens is no longer a newbie when it comes to design.
As such, for Ressence, the timepieces forego of the traditional hands and replaced them with discs with the intention of making time reading more intuitive. They are all fully designed and engineered in Antwerp, Belgium then produced and assembled in Fleurier, Switzerland. Ressence specializes in finely handcrafted mechanical timepieces.
Interestingly, this brand is just less than a decade old in the watchmaking industry. It was only in 2010 when Mintiens presented its first three prototypes at Baselworld. Since these prototypes were warmly received, Mintiens continued on producing more timepieces of the like.
In 2011, it released the Zero Series with just 50 timepieces and they all sold out. Next was Series One with 150 pieces. In the succeeding years, Ressence Watches continued to receive overwhelming support and even awards.
It takes a while to be familiar with time reading in Ressence Watches, but after some time, you'll get used to it and actually enjoy it. See Ressence Watches on this link.
Méraud Bonaire
Méraud Bonaire was established by a vintage watch collector and one of the primary members of the Belgium Watch Club – Stijn Busschaert. Driven by his passion, he made it a mission to produce affordable vintage-inspired timepieces of premium quality.
As such, Méraud Bonaire timepieces are mechanical and particularly focuses on functionality over design.
Following vintage watch designs, Méraud Bonaire timepieces are marked with two thick luminous hands and large hour markers. See its collections here.
Gavox
The brand name, Gavox, came from a combination of a Greek word, galaxias that means our universe or the Milky Way, and a Latin word, vox meaning voice. Having said this, Gavox then simply means voice of our universe. This statement reflects the founder's vision for the brand, that is: to produce quality and reliable timepieces that may be used by professionals as they go higher, farther and deeper into the field.
Gavox was established by Michael Happé in 2011. With this watch brand, he was able to marry his aviation background with watchmaking skils. With his thorough knowledge of aviation, he is able to design timepieces that are fully functional and would be loved by actual professionals.
It was in 2012 when the first Gavox watch was released. Since then, Gavox has been continuously offering military- and aviation-inspired timepieces, both mechanical and quartz.
Interested to have one? You may shop online here.
RSC Pilot's Watches

Stands for Ronald Steffen Creations, RSC specializes in manufacturing pilot watches.
The designer, Ronald Steffen, was initially inspired by the iconic airplane used in World War I – the Sopwith Camel. Then he took on creating more timepieces that are patterned after other notable aircraft including fighter jets, helicopters, and even cargo planes. With such designs, it is no surprise that the brand's primary patrons are aviation fans.
Moreover, RSC Pilot's Watches is co-founded by Steffen brothers, Ronald and Guido, just in 2015. Both are already pretty experienced in watchmaking already, having more than 10 years of background. As such, aside from this particular brand, they also have Steffen, Red Star Line watches and Antverpia diamond watches.
If you are an aviation fanatic, you may shop for RSC Pilot's Watches here on their website.
You can also find RSC watches on Amazon or search here on eBay

A.D.N.A.

Also goes as ADNA, this brand is a creator of unisex timepieces that come in a wide range of bright colors. The straps are made of silicone so they are flexible, interchangeable, and suitable for all ages. Further, ADNA watches are very affordable and rated with 10 ATM water resistance.
A.D.N.A. is established by Alain De Nys, same founder of the Bombardier Swiss Chronographs and GMT Chronographs.
Shop for ADNA watches on Amazon.
Komono
Raf Maes and Anton Jansenns established the Komono brand in 2009. Although its name is Japanese (that means small things), Komono is a Belgian brand that started and is still headquartered in Belgium.
True to its name, Komono items are minimalist and stylishly sleek, and in conformance with a particularly inspired color palette. Komono designers also adhere to the traditional Belgian values in dedication, quality, and craftsmanship.
Given this, Komono timepieces are not just stylishly minimalist but also of premium quality that is competitive even in the global market. Also, note that they are available at very reasonable prices.
Find a Komono watch that's perfect for you on this link or search eBay for available Komono watches.
Lebeau-Courally
Lebeau-Corally is initially a brand for guns. It was established back in 1865 in Liege, Belgium by Auguste Lebeau as a gunsmith workshop. Later on, in 1896 to be exact, the company was passed along to Ferdinand Courally. Seeing its long history, the ownership of Lebeau-Courally has been transferred from one to another.
In 2010, Joris Ide, together with his family, became the new owner of Lebeau-Courally. At this point, It was then the idea of entering into watchmaking industry has been born. Since then, the company released two major products – hunting guns and timepieces.
Moving forward, the brand continued to expand that in 2013, Lebeau-Courally introduced a new collection of luxury accessories. The brand now produces leather handbags, wallets, belts, and other accessories.
Even as the brand explored into creating more products, it has kept its reputation in producing only high-quality timepieces. This was made possible since each piece is carefully handcrafted in Lebeau-Courally's own workshops.
Among its notable collections are Le Dauphin, Le Baron, Le Marquis, Le Comte, and Phase De Lune. You may discover other collections on the company's website.
S. Albert
This next brand is named after its founder, Stéphane Albert. He started the brand with his passion for contemporary watchmaking. He is not just a founder but also the designer and primary creator of S. Albert timepieces. He conceptualizes the designs, drafts them, revises and finalizes his creations.
Then, in partnership with skillful watchmaking professionals, those designs are masterfully materialized. Each timepiece is made and assembled only with durable and high-quality materials, and in adherence to Belgian watchmaking tradition. As such, each S. Albert timepiece carries the Certified Artisan Label which symbolizes the Belgian government's recognition of the product.
Despite not having much information about the history of the brand, S. Albert is sure worth considering. Its timepieces are not only durable but they also exude a particular simplicity and elegance at the same time. S. Albert currently features the following collections: Cosmos, Suavity, Tourbillon, Triginta, Urbanity, Automatic, Mechanica, Eccentric, and Rotate.
Visit the S. Albert portfolio through this link.
Tamawa
Tamawa started in 2008 when the founder and designer Hubert Verstraeten met with the Belgian snooker ball manufacturer SALUC. From that point on, SALUC provides Aramith or Phenolic resin to Hubert.
The designer first explored the use of Aramith in producing two watches. Then he used the material to design a jewelry collection. This creation then led to naming the company Tamawa, which is a Japanese term for ball on steel ring.
At this point, Hubert then invited more designers to join the company. This led to the addition of more items being produced by Tamawa, such as memory form jewelry, ball lamp, USB key, pepper and salt mills, coat-stand lock, wall hooks, and suspension lighting.
Despite the variety, Tamawa makes sure that all its products are fully made in Belgium and that majority of its materials are gathered around Europe. It also pays close attention to the aesthetics and engineering of the products.
Visit this page to see the Tamawa watches.
Pontiac
You might've immediately thought of automobiles by General Motors (GM) when you read this brand name. However, this brand is different and independent from the one your thinking of.
Pontiac, in the world of watches, is a popular brand across the Benelux (Belgium, The Netherlands, and Luxembourg). Unlike the Pontiac brand of cars that was introduced by GM in 1926, the Pontiac watch brand was established in 1931 by Ali Kinsbergen and his brothers, simultaneously in Belgium and in The Netherlands. The brand name was taken after a chief of an Indian Ottawa Tribe who was capable of telling time through the stars.
More so, the brand's main mission is to produce affordable timepieces without compromising the design and build quality. To prove this, in 1935, Ali threw a Pontiac watch from the roof of Boerentoren, then the highest building in Belgium. After the 100-meters fall, the watch was still intact and functional. Since the event was captured by a number of journalists, the event brought a lot more fame and recognition for the brand.
Initially, Pontiac logo is characterized with the stretched P that extends over the other letters. There were also a number of stars (1-3) below the logo (until 1958) that was said to indicate the level of quality and reliability of the movement. By the 70s, the brand logo was then revised with all the letters being of the same size.
Pontiac has been primarily producing traditional dress watches. Although it also offers dive watches and chronographs. Visit these links to see Pontiac collections for Men and Women.
Twistiti
Interestingly, there is also a Belgian watch brand that focuses on produces watches for kids. It is no other than Twistiti, the proud specialist children's watch retailer.
Twistiti watches are undoubtedly cute and colorful – very appealing and entertaining for the young ones. The brand features only two collections – the Animals and Numbers.
The Animals Watches are designed particularly for kids three years and up. Instead of numbers and simple sticks, the hour and minute markers are animal face doodles and what seem like a color wheel. Although the animals and colors used are quite random, this cute design is very catchy as you introduce the concept of time to your kids.
The Numbers Watches, on the other hand, are more educational. Although they are still colorful and catchy, they are also now designed with numbers. Each color now corresponds to the hour and minute markers that are easy to read. They're actually a great watch for time teaching. (If you're interested in other watches for teaching your kid how to tell time, read this post.)
Whichever collection you choose, all Twistiti watches use Japanese Miyota quartz movement, the steel cases are satin-finished 316L with a K1 mineral crystal, and water-resistant for 50 meters. All straps are double-layered nylon and with a wide variety of designs to choose from. They are even interchangeable!
Want one for your kid or for your niece/nephew? Visit Twistiti's online shop.
You may also check out this post if you are looking for great watches for boys.
Venneman
The Venneman watch brand was founded by a watch enthusiast whose passion for watchmaking started at a young age when he was mesmerized by the ingenuity of mechanical watches. He is Thomas Venneman.
Driven by his passion for watchmaking, he studied and trained as a clockmaker in Namur, Belgium. Afterward, he trained and worked with various watch companies in Switzerland.
As he gathered more experiences, knowledge, and skills in watchmaking, he set on to realize his dream of creating and producing his own watches. This was the birth of Venneman watches back in 1993 in Zele, Belgium.
For his own brand, he makes sure that each timepiece adheres to the masterful technique and perfection that he learned from his great-grandfather. Each Venneman timepiece is meticulously crafted in his own workshop that he decided to limit the production to only 300 pieces per model.
Discover more about Venneman watches on this link.
Manfred+Cracco
The brand originally started as a Swiss one named Rodania established by Baumgartner family back in 1930. The company grew and was able to open various branches; one of them in Brussels.
In 1951, the Brussels branch was led by Manfred Aebi, a Swiss immigrant who later decided to stay in Belgium when he married Simone Verlinden. As the family grew, all his three children were employed by Rodania.
However, with the outbreak of the quartz crisis, Rodania struggled and was almost bankrupt. Yet, for the Brussels branch was rescued by the Aebi family when it acquired the brand, licenses and all its copyrights.
Rodania continued to grow as a watch brand even after Manfred and Simone Aebi retired and the leadership was passed on to the children. These new leaders aspired to have a bigger international market for the brand. Rodania was then sold to the BV Capital Partners and later on, they lost their shares. By 2015, the ownership was then again transferred to a Belgian investor named Philip Cracco.
It was he who realized the need for the company to start anew; so he renamed the brand Manfred+Cracco. With this change, the brand's timepieces are now characterized by a Cross engraved on the sapphire crystal and on the crown.
Despite the long history, Manfred+Cracco still adheres to the Swiss quality standards. With each Manfred+Cracco timepiece, you are assured of superior quality and timeless design.
You may shop for a Manfred+Cracco watch on this link.
Steffen
Does the brand sound familiar? It's because this brand is established by the same founder who started the RSC Pilot Watches – Ronald Steffen.
Steffen watches, however, are luxuriously designed, some with diamonds and others with mother of pearl. It currently features a number of collections – Julius, Napoleon, Josephine, and Galileo. Regardless of which collection you choose, all are meticulously and masterfully crafted, making each one unique. All models are also limited edition and each timepiece has a serial number.
Visit this page to see the Steffen Collections.
Ice-Watch

It could've easily mistaken as an American watch brand because of its name and popularity. However, Ice-Watch traces its roots back to Belgian Jean-Pierre Lutgen who established the brand in 2007.
Ice-Watch timepieces are mostly vibrant, stylish and very affordable. The brand quickly expanded and is now available in five continents, being sold in more than 50 countries.
Most of the products from Ice-Watch come with silicone strap; although it also has the Ice Steel collection that uses stainless steel for a more formal touch.
Visit this link to see some of the best Ice-Watch models. Or shop Ice Watches on Amazon here.
PATTON
Patton was originally a French watch brand (which is why it was set apart from the list) until 2014 when the founder of Ice-Watch Jean-Pierre Lutgen acquired the brand.
Patton specializes in creating watches that are durable and with high water resistance – great for sailing, diving, and other water sports. The brand currently boasts of five collections: Hyperbare, Harken, Immersion, Chrono, and Automatic.
You may visit this page to shop for Patton watches.
You may also visit these reviews we made on the best dive watches under $500 and on best watches for sailing.
Closing Words
Evidently, watchmaking is also not new in Belgium. Some started as early as the 1900s although a significant number were established quite more recently. Despite this, the brands are sure globally competitive when it comes to quality, movements, and materials.
But, if you want to explore more on European watch industries, feel free to read our reviews on watch brands from its neighboring countries – The Netherlands, France, and Germany. Or, if you want to explore further, we have also reviewed Polish, Italian, and Spanish watch brands.