Reese Witherspoon is an award-winning American actress once dubbed America's Sweetheart. However, Reese rejects that label saying she is friendly and honest but not exactly sweet. Reese is one of the highest-paid actresses globally, and along with her successful business ventures, Forbes' included her in their list of the 100 Most Powerful Women in the World in 2019. 
Reese Witherspoon also collected several acting awards from the Academy, Golden Globes, Primetime Emmy, and Screen Actors Guild Awards. She appears to find success in both her passions, acting and as an entrepreneur. 
Reese Witherspoon's Film Acting Career
Born Laura Jeanne Reese Witherspoon on March 22, 1976, in Nashville, Tennessee – 
Reese's love for acting was evident since she was a teenager. She made her film debut in 1991 and started gaining popularity after appearing in the 1991 thriller Cruel Intentions. However, she indeed became a household name after landing the leading role in the 2001 comedy, Legally Blonde. 
Reese achieved the pinnacle of success for an actor after being nominated and winning an Academy Award for her supporting role in the biographical musical movie Walk the Line alongside Joaquin Phoenix. 
While she did experience a slump in her acting career after bagging an Academy Award due to several commercial flops, Reese managed to regain her footing and enjoy a resurgence after producing and starring in the critically-acclaimed drama film Wild in 2014. Wild also garnered her praises from critics and even got her another nomination for the Academy Awards. 
Currently, Reese Witherspoon stars in the Apple TV+ drama series The Morning Show and other well-known actors such as Jennifer Aniston and Steve Carell. 
Check out the watches worn on The Morning Show. See Jennifer Aniston's watch collection and Steve Carell's watches here.
Reese Witherspoon's Other Projects
Reese Witherspoon currently owns a clothing company called Draper James. Reese Witherspoon also became the Global Ambassador for Avon Products in 2007. Additionally, she co-founded the film and television production company Type-A Films, now known as Hello Sunshine, which produces female-led movies and television series. Along with being a successful entrepreneur, Reese is also quite active in several charities focusing on children's and women's advocacies. 
Interesting Facts About Reese Witherspoon
A Knack for Business at an Early Age
When a young Reese Witherspoon was in third grade, the school suspended her when they found out she was selling personalized barrettes or hair accessories to her classmates. I will never know why anyone would try to squash a child's desire to learn about business. However, this setback did not deter Reese but further lit a fire inside her to succeed. 
She Published Her Own Cookbook
Reese Witherspoon created a cookbook called "Whiskey in a Teacup," published in 2018. The cookbook focuses on recipes rooted in her hometown of Tennessee so if you love Southern-style dishes, do yourself a favor and look for this cookbook. 
She Almost Starred in the Pixar Movie Brave
Reese Witherspoon was all set to play the lead character of Princess Merida in the box office animated film Brave. However, she admitted in an interview that she pulled out of the role as she couldn't nail a genuine-sounding Scottish accent. 
She Took a Bunch of Clothes from the Set of Legally Blonde
There is no denying that Reese's character in the Legally Blonde, Elle Woods, is quite a fashionista. This is why it is not surprising when the actress confessed that she took the majority of her character's wardrobe home. Around 60 of her clothes in Legally Blonde are in her closet at home.
She Guest Starred in Friends
The Morning Show is not the first time Reese Witherspoon and Jennifer Aniston worked together. Reese appeared as a guest in the iconic American Sitcom Friends twice. In the beloved 90s television series, Reese played Jill Green, the younger sister of Aniston's Rachel Green.
If you're a fan of the show, be sure to check out the watches worn on Friends here.
There wasn't a third outing, though, as Reese Witherspoon admitted she suffered from horrible stage fright during her two guest appearances in the show. 
Watches Worn by Reese Witherspoon
Rolex Day-Date President (18238)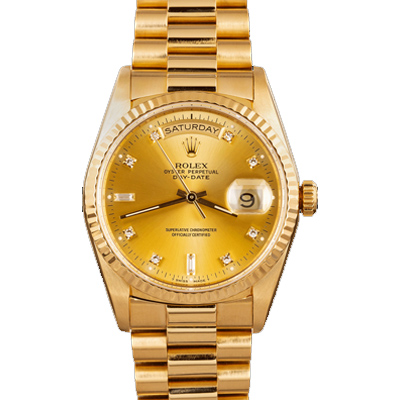 The Rolex Day-Date President is a classic and iconic timepiece from one of the world's most prestigious Swiss watch brands. Reese Witherspoon has a Rolex Day-Date President, often wears in public or when attending events. The choice of using a Rolex President is pretty much a no-brainer due to its prestigious reputation and top-notch quality build.
The Rolex Day-Date the Reese wears is the 36mm 18238 model, which debuted in 2000. It features an 18K 36mm oyster case. The 18238 Rolex President also incorporates larger lugs and slightly changes the case shape to a broader structure. The Rolex President 18238 also feels somewhat heavier on the wrist, but it's nothing too substantial. 
That said, other aspects about this Rolex Day-Date watch are similar to previous iterations, such as a twin lock screw-down crown and a screw-down case back. The classy-looking case also comes equipped with a scratch-resistant sapphire crystal window. Additionally, the Rolex Day Date President provides a solid 100-meter water resistance rating making it suitable for recreational marine activities. 
The dial of the Day-Date features, you guessed it, a day and date display. The date function is underneath a cyclops lens to enhance readability, while the day display is prominently shown at the 12 o'clock position. 
Inside the luxurious exterior aesthetic lies the Rolex caliber 3155 automatic hacking movement. As you would expect from a watch complication by Rolex, the caliber 3155 is among the best mechanical movements around with its high-precision and 48-hour power reserve. 
Apple Watch SE Gold Aluminum Case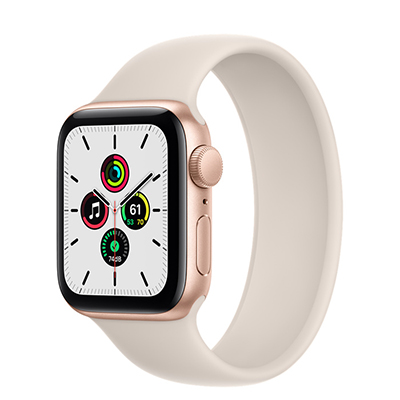 The Apple Watch seems to be Reese's preferred wristwear when working out in the gym or at her local park. Based on the Apple Watch's capabilities, having this high-tech smartwatch during such activities is an advantage. In addition, the Apple Watch comes with a slew of features, including several fitness and health tracking applications – perfect for keeping track of your exercise progress. 
Along with those nifty features, the Apple Watch also comes with built-in GPS to help you keep track of your location. The Apple Watch must be paired or connected to your iPhone via Bluetooth connectivity if you wish to take advantage of these perks. 
Once connected to your smartphone, your Apple Watch will provide the standard smartwatch touch notification that alerts of you any incoming messages or call. As for its health and fitness features, the Apple Watch is compatible with several physical activities such as jogging, running, cycling, swimming, and even yoga and dancing. 
As for the Apple Watch SE's exterior design comes in with a 40mm aluminum case build. The OLED screen is also noticeably larger compared to older generation Apple Watches, making reading the display information easier. 
The Apple Watch symbolizes modern convenience as it is more than just a tool to tell time. The advanced technology that this smartwatch utilizes makes it a suitable all-around communication and media device. That is a lovely notion for busy individuals, like, say, a Hollywood A-list actress like Reese Witherspoon. 
Watches Worn by Reese Witherspoon Onscreen
Cartier Roadster Automatic (3312) in Four Christmases (2008)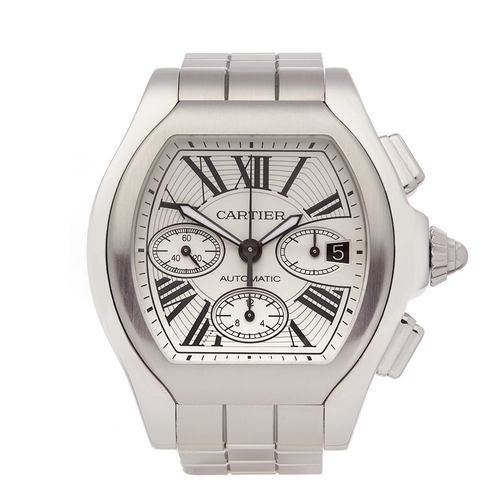 Reese Witherspoon wears a classy Cartier Roadster Automatic in her 2008 comedy film Four Christmases. In the movie, Reese wears a Cartier Roadster 3312, which is quite distinct with its 36mm silver-tone tonneau-shaped watch case and pointy crown. 
The refined aesthetic of the Cartier Roadster Automatic is a staple of this luxury Swiss watch brand. The Roadster symbolizes class from the eye-catching case to the white dial with Roman numeral hour markers and skeletal analog dial hands. 
Besides the fancy case design, the Cartier Roadster also meets the standard of a high-end timepiece using a scratch-resistant sapphire crystal window. Also of note is the dial is the date display located at the 3 o'clock position. 
The Cartier Roadster also features the Cartier caliber 2894 automatic self-winding movement based on the ETA 2894 movement. This mechanical complication has a 37 jewel construction, a high-precision 28,800BPH, and approximately 42-hours of power reserve.  
Casio W201-1AV in Wild (2014)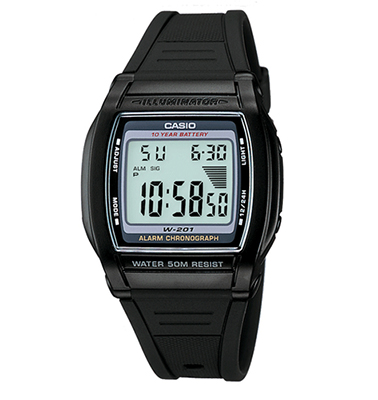 Reese Witherspoon produced and starred in the 2014 drama film Wild. In it, she plays Cheryl Strayed, a divorcee who decides to hike over a thousand miles of Pacific Crest Trail on her own as a way to heal herself emotionally and mentally. But, of course, since this is Cheryl's first actual hike, you can guess that everything that went wrong went wrong. 
In the movie, Reese wears a pretty basic Casio W201-1AV digital watch. While it is undoubtedly functional and reliable, I would have picked a G-Shock or Garmin, or even a Suunto watch to accompany me during such a challenging trek. 
Of course, I'm not knocking the Casio W201-1AV as it has its merits. This digital watch from Casio is exceptionally budget-friendly. It features a slew of functionalities, including an alarm, stopwatch, calendar, dual time display, hourly alarm, and a decent 50-meter water resistance rating. 
Other notable features of the Casio W201-1AV include its digital quartz movement, lightweight 36mm resin case, and rubber strap. 
Timex Ironman Traditional 30-Lap (T5K693)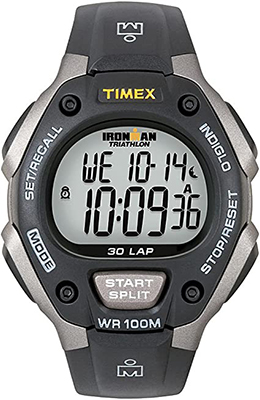 Reese starred in the 2015 action comedy film Hot Pursuit wherein she played San Antonio Police Officer Rose Cooper. Because she portrays a police officer in this film, her character wears a durable and functional Timex Ironman Traditional 30-Lap digital watch in the movie. 
The Timex Ironman Traditional 30-Lap is a digital sports watch with a nifty Velcro strap that makes it easy to secure and remove from your wrist. Function-wise, this classic Timex Ironman digital sports watch comes with features such as a 100-hour chronograph, calendar, countdown timer, three different time zones, daylight saving time, and INDIGLO nightlight. 
Also, the Timex Ironman is, first and foremost, a sports watch which is why it also features a 30-lap memory recorder. Other notable qualities of the Timex Ironman Traditional 30-Lap are its lightweight 38mm resin case and 100-meter water resistance rating.