The multi-award winner and one of the most recognizable and beloved Hollywood A-lister, Tom Hanks, has pretty much engrained himself into pop culture history. With so many memorable and iconic roles under his belt, such as the titular Forrest Gump, Woody from Toy Story, Professor Robert Langdon from the Dan Brown trilogy movies, and even portrayed another on-screen legend, Fred Rogers, a.k.a. Mister Rogers in A Beautiful Day in the Neighborhood.
Tom Hanks also played starring roles in a bunch of films, from cult classics such as Splash and The 'Burbs to award-winning ones like The Green Mile, Cast Away, and Captain Phillips. There is no doubt that Tom Hanks is one of the most talented actors around today and was a part of many childhoods of different generations. 
With such a fantastic career that spans several decades, you can bet that the iconic actor has a veritable expensive collection of various items at home. Tom Hanks is known for collecting antique typewriters, around 120 and counting, as we speak. 
Obviously, as an all-American man, Tom also has his car collection. Except, rather than flashy luxurious sports cars, Tom Hanks prefers to collect an array of strange automobiles like the eBox, Mercedes-Benz S-Class, and a Toyota RAV4E. Like I said, pretty weird car collection.
But we are not here for his antique typewriters and eccentric vehicles; no, we are here for those stunning timepieces. Below are the watches that the celebrated actor sported throughout the years. Judging from the list below, we can honestly say that Tom Hanks has pretty good taste in timepieces. 
Watches Worn by Tom Hanks
Not surprisingly, it looks like Tom Hanks is a collector of Rolex's most prestigious brand in the watch market.
Rolex Explorer I (214270)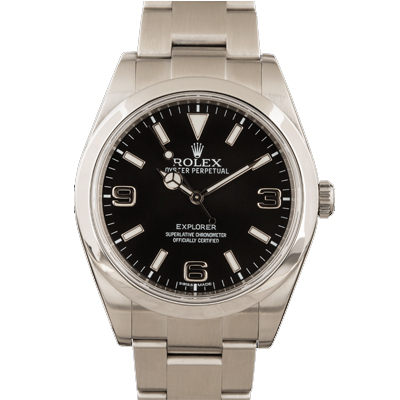 Let us start this list off with one of Rolex's most interesting watch lines, the Rolex Explorer. Specifically, Tom wears a Rolex Explorer I, which encapsulates a different spirit than your typical luxury Rolex timepiece. The Explorer I features a more durable and reliable build designed to offer better resistance against harsh conditions. 
The Rolex Explorer I is a sleek and robust dress watch. The timepiece uses a 39mm polished stainless steel case which accentuates the black dial. The dial's black-tone aesthetic complements the flashy and elegant Mercedes-style analog hands and baton hour markers – all of which have a luminous finish. There are also raised Arabic numeral markers at each quarter hour position. 
The Rolex Explorer I is a classic timepiece with a pretty straightforward design. But, as the name implies, the Explorer has a rich history with explorers and adventurers. This Rolex watch is a no-nonsense entry with minimalist features, but the honed craftsmanship significantly adds to its visual charm. 
Other notable aspects of the Rolex Explorer I are its 100-meter water resistance and high-precision Swiss automatic movement. Reliable with a refined structure, the Rolex Explorer I is a great timepiece choice for a man of Tom Hank's acting caliber. 
Rolex Sea-Dweller (116600)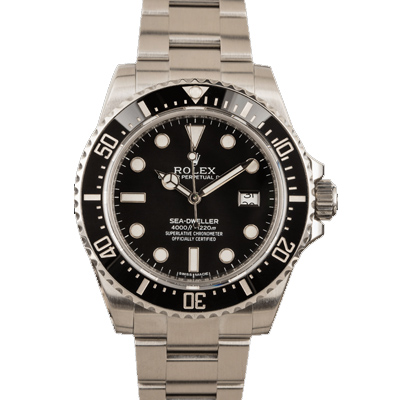 As a well-traveled actor, Tom Hanks' career has pretty much led him around the globe. As such, the award-winning actor will need a timepiece designed for extensive travel.
The Rolex Sea-Dweller is one such high-end timepiece that complements this lifestyle. 
One of the most prominent features that the Rolex Sea-Dweller offers is its jaw-dropping 3,900-meter water resistance. So if you ever plan on conquering the deepest parts of the ocean, such as the Mariana Trench, this timepiece should cover your timekeeping needs. 
The Rolex Sea-Dweller features a polished 40-mm stainless oyster steel case with a ceramic black unidirectional bezel incorporating white markers for enhanced readability. The luminous white hour markers and Mercedes-style watch hands add a dash of practicality and style to this robust dive watch. 
There is a date window neatly placed at the 3 o'clock position while a scratch-resistant sapphire crystal window tops off the premium build of the case exterior. While the extreme water resistance that the Rolex Sea-Dweller offer makes it one of the top dive watches around, the signature Rolex charm makes it a handsome dress timepiece as well. 
Within the Rolex Sea-Dweller is the Swiss automatic Rolex Caliber 3135 COSC certified chronometer with a self-winding feature. That COSC certification guarantees top-tier precision and reliability.
Rolex Milgauss (116400)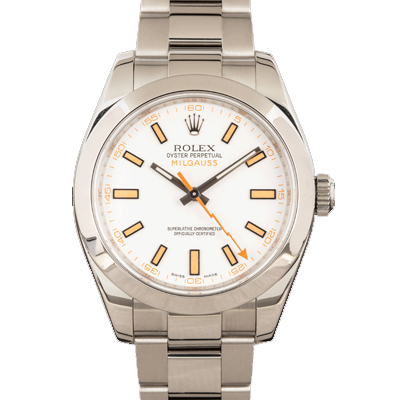 With Tom Hanks' somewhat eccentric taste in cars, you can bet this also partially transfers to his timepieces. A good example is the rather unconventional (for Rolex standards) Rolex Milgauss.
The Rolex Milgauss pleasantly matches the actor's more playful side with its rather fun details.
The Rolex Milgauss is known as one of the top watches with magnetic resistance build that offers up to 1,000 gauss resistance. Thus, making it a great companion for traveling worldwide, which makes sense that Tom Hanks has a Rolex Milgauss, seeing as he tends to find himself in different parts of the globe at any given time. 
The dial of the Milgauss is where the focus will undoubtedly center on. The dial features a sleek black and green aesthetic with a unique lightning bolt-style seconds hand that is the icing on the proverbial cake. The hour indices also have an alternating green and orange color tone.
The Rolex Milgauss features a 40mm stainless steel case with a smooth bezel and oyster steel bracelet. There is also a scratch-resistant sapphire crystal window to complete the premium-grade design. Additionally, the Milgauss delivers up to 100-meters of water resistance and an excellent Swiss automatic movement. 
The Rolex Milgauss is probably the closest timepiece in Tom Hanks' watch collection that captures his personality. The polished and quirky design of the Rolex Milgauss is pretty much the actor's character traits in wristwatch form. 
Omega Speedmaster Moon Watch (324.30.38.50.01.001)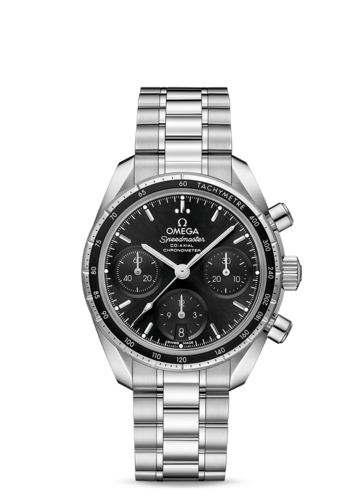 One of Tom Hanks' most notable roles is as an astronaut, Commander Jim Lovell, in the 1995 Ron Howard directed docudrama Apollo 13. As such, it comes as no surprise that Hanks also has an Omega Speedmaster Moon Watch in his collection. In fact, not only does he own one, but he also wears a Speedmaster in the film.  
The Omega Speedmaster is the official timepiece used by NASA since it meets the agency's flight requirement standards. Also, the Omega Speedmaster is pretty much present in every NASA crewed outer space mission. The Omega Speedmaster is among those exceptional timepieces with an unparalleled level of precision and reliability. This excellent quality is why the Speedmaster is the trusted timepiece by NASA. 
As for the specifications of the Omega Speedmaster Moon Watch, this classy timepiece features a sleek silver-tone 38mm stainless steel case. The black dial features silver-tone and luminous baton hour markers and analog hands. In addition, three sub-dials presents display hours (12), minutes (30), and seconds (60), further improving its timekeeping capabilities. 
Within the Omega Speedmaster is the in-house movement (Caliber 321 chronograph). Unfortunately, this particular watch complication underwent several modifications before getting the NASA stamp of approval. Nevertheless, you can bet that the Speedmaster holds one of, if not the best chronometer movements around in the market today. 
See affordable alternatives to the Omega Speedmaster here – if you like the look of this watch but not the price tag.
Other Notable Watches that Tom Hanks Wore in his Movies
Casio G-Shock DW6900

Having such an impressive list of films in his repertoire, Tom Hanks managed to play various characters. Some of these roles had him wearing recognizable timepieces as well. For example, in his role as the titular Captain Phillips, Tom wore the rugged and reliable G-Shock DW6900. 
Due to the ultra-tough reputation of the G-Shock DW6900, it is only a natural choice to keep up with such a tense role. G-Shock is also the watch choice for the military, police, and extreme sports enthusiasts due to its impeccable durability and functionality. 
The DW6900 features all of G-Shock's signature qualities, such as extreme shock resistance, excellent 200-meter water resistance, and multi-functional capabilities such as alarms, stopwatch, timers, and fantastic screen illumination technology.
G-Shock watches tend to be cumbersome and tank-like in their design, as seen with the DW6900's 53.2mm case. However, the lightweight resin case counters the bulky appearance, which gives this tough digital sports watch a comfortable fit. 
If you want to check out other Hollywood celebrity watch collections you might be interested in these: