The brand Diesel is no stranger when it comes to fashion. Originally founded back in 1978 by Renzo Rosso, Diesel has come a long way from its roots in Italy and has soared to international fame thanks to its high sense of style when it comes to clothing, footwear, and accessories.
Under Fossil Group Inc., Diesel has become a firmly established brand when it comes to watches too. Catering mainly to the younger market, Diesel watches are known for exuding personality and creativity with their designs.

As a fashion watch brand, the main feature of Diesel watches is the integration of aesthetics and trending fashion in the watch designs. The brand is known for incorporating urban culture in their styles, a factor that attracts millennial watch buyers to the brand. Apart from this, the fact that Diesel tends to create their own trends rather than following them is appealing to a lot of buyers looking for unique watch designs. Coupled with the latest technology and innovations, Diesel creates both classic and unique styles to suit a wide variety of tastes.
While the design counts for a lot when choosing a watch, the quality is important too. Read on to find out if Diesel watches are worth the hype and quality-wise if it's worth your buck.
Diesel Brand History


Renzo Rosso, president and founder of Diesel, was born in Brugine in Veneto, Italy. His parents were farmers, and seeing the hard work farming entailed, Rosso longed to do something different. He began studying Industrial Textile Manufacturing in 1970, and by the time he was 15 years old, he had already designed and produced his very own pair of jeans. He used his mother's sewing machine to create different styles of jeans that he wore himself and also sold these to his friends.
In 1973, Rosso began studying Economics at the University of Venice but later on dropped out and worked as a production manager at Moltex, a clothing manufacturer in Italy that made trousers for different clothing brands. Within Rosso's first two years at the company, he managed to increase production, and the company grew quickly. He wanted to leave to start his own business. Goldschmied, head of Moltex's parent company, offered him a 40% stake in the company and agreed to take on a new company together to prevent Rosso from leaving, hence, Diesel was born.
The brand name, Diesel, was chosen by Goldschmied and Rosso because, at the time, diesel oil was considered an alternative fuel source during the oil crisis. The brand was meant as an allusion to the idea that their brand was also an alternative to the more popular casual wear brands at the time. The term diesel also appealed to Rosso's belief that the fashion industry was not separated by borders on a global scale; rather, it was people's lifestyles that mattered more. It was an essential component of the brand's core values, and by 2013, the company had produced more than 2000 different kinds of denim washes and sold over 100 million pairs of jeans since the company's inception.
Diesel Watch Collections
If you head on over to Diesel's website, they have watches and smartwatches available. The brand's Smartwatches are further classified into different categories, specifically Axial Smartwatches and Fadelite Smartwatches. There is a large number of watches under the different collections, so take a look below for a closer view of what the brand has to offer.
Classic Watches
Read Amazon Reviews | See on eBay
Diesel's classic watches range includes both analog and digital ones. One of their simplest styles is the Chopped Digital Silicone Watch, which features a logo-pressed silicone strap as well as a negative display screen. The futuristic design of the watch comes in different colors fit to suit any chic outfit.
If you're looking for something with a more robust design, the Mr. Daddy 2.0 Multifunction Red Silicone Watch is worth a look too. The watch features multifunction movement, a sleek black dial interface, and a red silicone strap pressed with the brand logo.
Smartwatches
Read Amazon Reviews | See on eBay
Given the fact that Diesel likes to keep up with the newest innovations and technology and integrates them into their watches, it comes as no surprise that the brand has a sleek line of smartwatches divided into two collections, namely the Axial Smartwatches and Fadelite Smartwatches. The Axial style features a rugged and tough appearance, meant to appeal to the masculine market. The Fadelite smartwatches, on the other hand, have a slicker appearance and are meant to be worn by both men and women.

Read Amazon Reviews | See on eBay
In a perfect combination of Diesel's denim roots and Fossil's watch technology, the Axial Smartwatch in Blue Denim features a bold blue denim strap and stainless-steel case. The watch works with both Android and iPhones and is capable of tracking the heart rate and activity of the wearer. It also boasts of a built-in GPS for tracking distances and is waterproof too. The smartwatch model also features a speaker for calls and alerts, lets you manage your calendar, and allows you to control music from your phone.

Read Amazon Reviews | See on eBay
With a 44mm touchscreen, the Fadelite Smartwatch is significantly smaller compared to the more chunky 48mm Axial smartwatches. Available in 4 different colorways, the Fadelite has a more unisex appeal that's also lighter on the wrist. With a TPU strap and nylon case, the watch is powered by Google's Wear OS. Still compatible with both iPhones and Android phones, it boasts of the same features as the Axial Smartwatch.
Diesel Brand Reputation
Diesel watches are known for their stylish design that caters mainly to the younger generation. They are also famous for having in-depth knowledge of urban culture trends. They have several collections based on the needs and taste of their customer base, varying from simple and classic to more modern and intuitive. The brand is also known for staying on top of technological advances and trends, as seen in their latest smartwatch models.
Diesel caters to both men and women, with some designs mainly targeted toward their male customer base. Still, some collections, specifically their Fadelite smartwatches, have a design that is more gender-neutral.
Where to Buy Diesel Watches?
Diesel has an official online store where you can look at and purchase their latest watch models. Most, if not all, of the features of each watch, are listed under every product. If you sign up at the website, you'll get 10% off your first order too.
You can also check out their physical stores, which are found in numerous locations worldwide.
See Diesel watches on Amazon.
See new and older models on eBay.
Different online sellers offer Diesel watches, and you can find one that would help you save on shipping, especially if you find one that is near your location. These platforms also provide real user reviews, so you can read through what other people think before making a purchase.
Is Diesel A Good Watch Brand?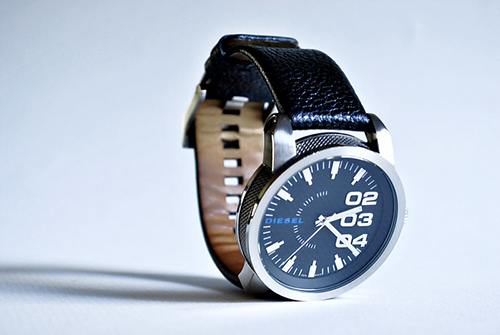 Diesel undoubtedly has made a name for itself in the fashion industry. It is not only known in Italy but has made its way into the US and other parts of the globe. If you are conscious of the brands that you wear, Guess, as a brand, is easily recognizable because of the wide range of fashion items they produce worldwide.
However, if you are more particular about the watch mechanics, functions, and a brand's historic watchmaking reputation, then obviously Diesel watches are not for you.
Just for comparison, take a look at a Seiko 5, Orient Bambino or a Citizen Eco-Drive that retail for about the same price as a Diesel and in some cases are even more affordable. However, these others are very established watch brands that have a long watchmaking history and are known for quality watches that could last you a lifetime, something very unlikely with a Diesel watch.
Diesel is on par with other fashion brands such as Armani, Guess, and Gucci, that deal mainly in clothing manufacturing and have also branched off to include watches in their product range.
One advantage of Diesel is that it is under the Fossil Group. Fossil has been around since the year 1984 when Tom Kartsotis became a frontrunner in the fashion watches market. To date, Fossil continues to market its brand with a nostalgic vibe, and its group of companies sells licensed watches for several well-known brands, including Diesel, Michael Kors, Skagen, and Michele watches.
Apart from their unique and eye-catching designs, Diesel also keeps up with the latest advancements in smartwatch technology to keep up with the evolving needs of its customers.
For their stainless steel watches, the majority of customers found the color and material of the straps quite excellent and great for everyday use. They also found the bold color to be eye-catching if that's the look you are going for. However, some customers also found the size of the watches too big, especially for men who had smaller wrists than average. Several customers on Amazon also reported that the watch had water resistance issues, specifically the Mr. Daddy 2.0 model.
Diesel Watch Warranty
Diesel watches are covered by a 2-year warranty from the date of purchase. It includes any manufacturing defects as well as the watch material. To qualify for coverage, customers need to have the warranty booklet plus a dealer stamp or copy of the official receipt. The watch will be repaired or replaced free of charge if proven to be defective under normal use; however, in the case of the latter, the brand does not guarantee replacement with the exact same model. Complete details of the watch warranty can be viewed here.