Watches have gone from being just devices that tell time to fashion accessories that can highlight a person's style for any occasion. However, the functionality must never take a back seat to appearance. The good news is that there are several brands of watchmakers out there that have found a balance between aesthetics and performance. Two such brands are Seiko and Invicta.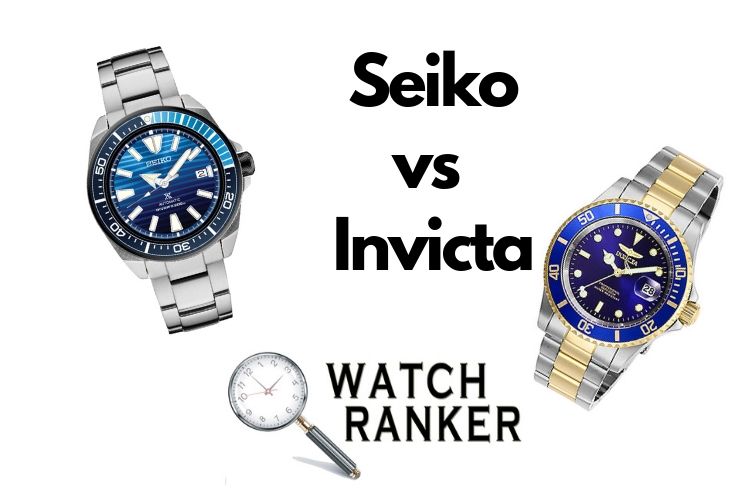 As a watch enthusiast, you are probably already well acquainted with Seiko watches. Invicta, although it also has a long history, doesn't have the same name recognition but is considered to be a reputable affordable watch brand as well. In this article, we will be placing the two brands side by side to figure out their advantages and disadvantages in comparison with each other.
One of the main differences that separate the two brands is that Seiko makes all of its watch components in-house and supplies other watchmakers with movements under a Seiko license (including some Invicta watches such as the Pro Diver reviewed below that uses the Seiko NH35A 24-jewel caliber) whereas Invicta watches are made by third-party manufacturers using a variety of components – which many experts say results in lower quality watches. The fact that Seiko produces its own movements and that Invicta chooses to use them in its watches is a very strong vote for Seiko in this head to head brand comparison.
History of Seiko


Seiko is a well-known and highly respected Japanese watchmaker that has been around since 1881. The company is known for continually revolutionizing the industry with its innovative technologies such as the quartz movement, solar-powered technology, and the Spring Drive movement technology.
Seiko also offers their watches in a wide range of prices to fit everyone's budget. They also have wide-ranging watch types to choose from. Seiko provides its customers with excellent options for chronograph, dress, dive, and pilot watches, to name a few.
You are guaranteed to find Seiko watches that fit your budget as well as your style. Seiko is one of the safest options for watch enthusiasts, based on their fantastic track record alone.
History of Invicta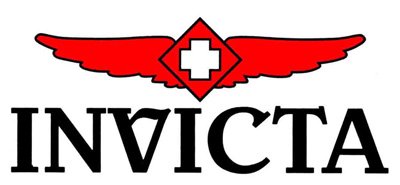 Invicta is a watchmaking company that was founded in Switzerland in 1837. They built a reputation for designing beautiful timepieces at a more budget-friendly price tag. The company did experience a lull during the 1970s when the quartz movement watches were introduced.
Invicta made their comeback around the 90s and have since rebuilt their brand as another reputable watchmaker that provides excellent mid-range priced timepieces. Invicta watches also share a similar signature look, which is the gold layering and skeletonized movements.
The Invicta watch catalog is also entirely an extensive one. The company has managed to create around 30 different series/collections, and they show no signs of slowing down. In terms of versatility in design, Invicta undoubtedly casts one of the most extensive nets in regards to its variety. The company's ability to adapt to the ever-changing times is reflected in their watches that have also gone through several reiterations to meet and surpass customer expectations.
Seiko and Invicta Watch Comparisons
Seiko and Invicta are quite distinct from one another, which will make deciding which watch is better suited for you relatively easy. We will be picking one watch from each brand in a particular watch category.
Dive Watches
As the name implies, these watches are designed to withstand high moisture environments and underwater. Both Seiko and Invicta are quite well-known in the diver's circle, so this category is an excellent place to start the comparison between these brands.
Seiko Prospex Marinemaster

The Prospex Marinemaster is one of Seiko's premier diver's watches. The construction is top-notch, and in terms of water resistance, few can match up to what the Marinemaster can offer. Dubbed the "Emperor Tuna", the Marinemaster is built like a tank, and it shows in the timepiece's detail.
The Seiko Prospex Marinemaster has a water resistance of 300m or over 900 feet. This is an excellent wristwatch for those who enjoy various types of water activities. If you ask around veteran divers which watch they recommend for such an event, you can expect the Seiko Prospex Marinemaster to get a quick shout out.
Due to the fantastic construction of this watch, the Marinenaster usually fetches for quite a hefty price. As we have stated earlier, Emperor Tuna is built like a tank and feels like it as well. While it is not uncomfortable to wear, the weight is noticeable. The Prospex Marinemaster is all about functionality and reliability.
This watch features the Seiko 7-jewel 7C46 movement which is accurate to within 15 seconds a month. Over at the dial, wearers will get a day and date display located on the 3 o'clock position. This watch is designed to be water-resistant for up to 300m. Lumbrite is used on the hands and markers of the dial for optimum luminosity even in low-light environments.
A Hardlex crystal protects the dial. It also features a unidirectional diving bezel with luminous PIP at 12:00. This Seiko diving watch comes in at 48mm and features a stainless steel casing. In terms of durability, this is one of the most robust watches in Seiko's catalog.
Invicta 8928OB Pro Diver

A complete opposite of the Seiko Prospex Marinemaster, in terms of price, the Invicta Pro Diver is excellent for entry-level divers. Its highly affordable price tag does not equate to the quality it offers. With its stylish design and robust construction, the Pro Diver should satisfy those who enjoy participating in several water-based activities now and again.
With a water resistance rating of 200m or 656 feet, the Invicta Pro Diver is a solid choice for most water activities. It is also sleek and quite stylish, unlike most dive watches that are usually bulky. This is an automatic watch that features a unidirectional bezel on a 23k gold-plated stainless-steel case. Elegant, indeed.
The case has a 40mm diameter and features a mineral dial window. The hands and markers are treated with a luminous finish for low-light environments. Additional features include a magnified date display that is located over at the 3 o'clock position.
The Pro Diver uses the Seiko NH35A 24-jewel caliber automatic movement. The fact that Invicta chooses to use Seiko's movements inside this watch is a vote of confidence for the quality of Seiko watches. Understandably, many experts would say relying on the other brand for the watch movement proves Seiko's superiority versus Invicta in watchmaking.
Best Diver Watch – The Seiko Prospex Marinemaster takes the victory here. However, Invicta is a good option for entry-level divers due to its extremely affordable price tag. Still, it does not match up to the overall quality and functionalities offered by the Seiko Prospex Marinemaster. If you are looking for a dive watch, check out these top picks all under $500.
Dress Watch Comparison
Looking for something stylish to wear for a special occasion? Dress watches should offer you that added pizzazz to complete your elegant attire. Both Seiko and Invicta offer some of the most stylish timepieces around. Let's see which one delivers the most eye-catching wristwatch.
Seiko Men's SSC143 Two-Tone Stainless-Steel Watch

The Seiko Two-Toned Stainless-Steel watch is a mid-range watch that delivers in both functionality and style. This is a chronograph watch, yes, but its beautiful two-toned stainless-steel black ion finish and sub-dials make it quite a nice-looking timepiece as well.
As you would expect, this watch uses Seiko's signature Japanese quartz movement along with a six-month power reserve and analog display. The hands and markers are treated with LumiBrite for optimum luminosity, even in low-light environments. If you like the idea of having a solar watch check out these other top solar watches here including some other watches from Seiko.
The SSC143 also comes with dual-time capability, a 12-hour alarm, and a 60-minute stopwatch. The watch is also designed to be water-resistant for up to 100m or 330 feet. The two-toned aesthetic is gorgeous. This is one dress watch that you will want to show off as often as possible.
Invicta 6620 II Collection Watch

Here we have the complete opposite of the Seiko SSC143 in terms of appearance. The Invicta 6620 II Collection features a silver stainless-steel construction. It incorporates that traditional analog display and a coin-edge bezel that gives a more rugged aesthetic.
The inner workings of the 6620 II Collection use Swiss quartz movement technology, but note that this is not Swiss-made. The polished stainless-steel case is definitely stunning, which is one of this watch's strong points. A Flame Fusion window also protects the dial.
The watch comes with a unidirectional bezel, a date display window located at the 4 o'clock position, and luminous hands and markers. As a bonus, this watch comes with a water resistance rating of 100m or 330 feet. Ideal for swimming but don't take it out for any serious diving activities.
You will also notice the affordable price of this watch, which is a staple of all Invicta watches. While it is on the lower end of the price spectrum, it is still well-made, and with the fold-over clasp, it is also entirely secure and comfortable to wear.
Best Dress Watch – When it comes to dress watches, the decision is subjective to each person. These two watches couldn't be more different from each other in terms of design.
This difference makes deciding between the two easier. Do you prefer something stylish yet rugged and tough? Seiko is well-known for sporty looking watches. Invicta, on the other hand, provides a more "luxurious" appearance while being quite affordable.
Conclusion: Seiko VS Invicta – Which is Better?
Seiko and Invicta differ in one significant aspect, and it is with their proprietary components. Seiko's watches are all made in-house, and this helps guarantee the quality of all their timepieces. Invicta, on the other hand, hires a variety of third-party manufacturers to develop their watches.
This reliance on different third-party manufacturers can lead to varying degrees of quality with some of their watch series. However, the one advantage there is that Invicta provides watch enthusiasts with a slew of options at an affordable price.
All in all, Seiko gets the nod based alone on their reputation. Seiko is one of the most trusted watchmakers in the world. The quality of their product is unquestionable, something that Invicta is still trying to achieve. You may want to check out this list of best Seiko watches here– with options to match your personal style and budget.