Trying to look rich without spending a lot of cash? A Burei watch may be the right choice for you. This is one of many watch brands that looks expensive but really isn't.
Known for their Rolex-like homage timepieces, Burei lets you wear the overall "look" of a luxury watch at an affordable price. While an undiscerning eye may be fooled into thinking you're wearing a luxury timepiece, any serious watch aficionado or collector will see through these watches from a distance.
We have an article on the difference between homage, replica, and fake/counterfeit watches. The fake-replica territory can be quite confusing for the seasoned watch enthusiast and beginner alike. Fortunately, you won't have to deal with this confusion when you purchase a genuine Burei watch. They are no counterfeit watches nor attempting to trick people into thinking they're buying a genuine luxury watch.
However, be warned you're not going to trick any seasoned watch aficionados with these watches and you may get a few disapproving looks from watch snobs (although we're guessing that's probably not really much of a concern if you're buying this brand).
Many questions go into watch buying decisions, even more of them go unanswered. Where is the maker from, is it recognized among the watch community, where can I buy one? In this article, we take an in-depth look at Burei, the brand, helping you answer these questions and, hopefully, make an informed decision.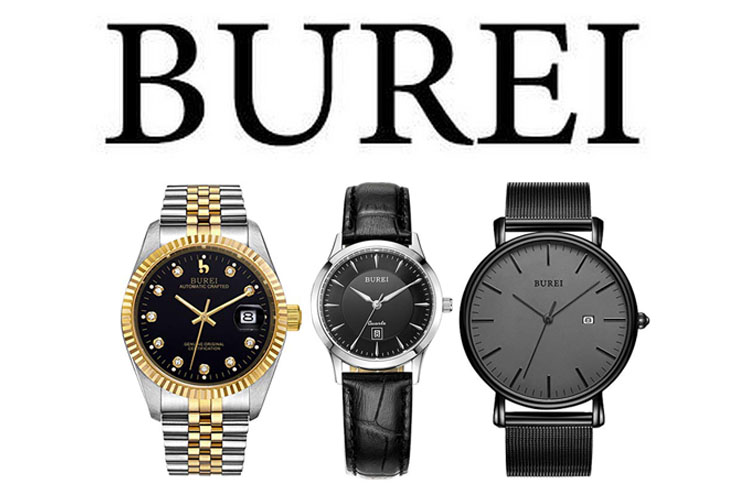 Burei Brand History

Burei's watches are shiny. Their history is not. Other than forum chatter about their watches being Chinese, not much is known about the company. One source traced their history to 1993, when two college dropouts, Alex and Delia, driven by a desire to make functionally and aesthetically pleasing timepieces, ventured into watchmaking. They started by producing minimalistic pieces then diversified their offerings to cater to a broader market segment.
On their website, Burei claims to pioneer the Su-Precision 32768Hz—a concept that debuted in their Custom series 17005. It is trademarked by China-based IWU Baosuo Network Technology Co., Ltd.
Burei is low-key a fashion brand that seems to primarily sell on major online retailers. They make unique necklaces, with some of their collections allowing for customization. They have replicated this concept for some of their Rolex-like models. Speaking of Rolex, Burei is known for making homage Rolex watches, providing cheaper alternatives.
Burei Watch Collections
Whether you are looking for a cool wristwatch that can be worn for every occasion or a bold status piece, Burei has a wide range of watches to choose from. The company has been racking up positive reviews on various watch forums and on Amazon, prompting watch geeks to probe the brand further. Below, we dig even deeper into their offerings, with particular attention to their homage models. After all, this is their selling point.
The Sovereign Collection
The Burei Men's Automatic Watch is the collection's crown jewel. The collection features a wide range of automatic watch options and a few quartz models. Speaking of the crown, you'll notice that the homage one is thicker than the Rolex Datejust's. Everything else, from case design and size, movement type, dial detailing, to the exhibition back, are a spot-on match.
But the pricing couldn't be further apart. We can think of a thousand reasons for the difference. For one, the Rolex one comes with genuine, 18k gold and diamonds. Our Burei? The gold plating is only surface deep, and the stone indices are not real. Heck, the Burei's self-winding movement is Japanese, not Swiss.
Other than the obvious logo, price tag and other visibly different features, the Burei watch is quite a head-turner. And as far as the tribute goes, the designers did a great job, giving wannabe high rollers a taste of the good stuff for a tiny fraction of the cost.
Though the Sovereign Collection enjoys decent reviews on watch forums, especially for its reliability, buyers have complained that the band is oversized, forcing some to spend more on replacement straps. One buyer noted that, while Brunei automatic ran for 32-33 hours on power reserve, its lume is flat out terrible, dimming after just 5 minutes of a full charge.
The Minimalist Collection 
This collection provides a nice, much-needed contrast, which is refreshing, given the company's reputation for flashy imitations. To take us from the ultra-bling world to the reserved domain is the Burei Men's Fashion Minimalist Wrist Watch. It's the epitome of sophistication. The grey brass dial's minimalist appeal, together with its rounded, slim black case, subtle sword-shaped hands, Batten markers, and graceful lugs embody elegance.
Burei for Women
The women's collection features models of different makes, functionality, and taste. From the salient canvas strapped sports, the stone-encrusted, to the inconspicuous yet elegant timepieces, each of the collection's models exudes femininity.
The Loire Lady Black Leather Watch is a work of beauty. Weighing in at just 27g, her Seiko Time quartz movement is enclosed within a scratch-resistant 30mm-case and sapphire glass. The display's anti-reflective treatment is both aesthetically and functionally appealing, made even more prominent by the silver hands and markers against a textured black dial. The watch's most striking feature is the calfskin leather strap. It accentuates the wearer's femininity.
Burei Brand Reputation
For a post-1990s brand, Burei has made a name for itself in a very specific niche of homage watches.
Although their design elements have earned the company a reputation for being a copycat, they do offer their fans quality and a chance to indulge in status games without breaking the bank. They are popular for making tribute timepieces—a time-honored practice within the watchmaking space. Surprisingly, their homage models have warmed up the hearts and souls of watch lovers.
For one, they are functional and durable, enabling owners to experience the same feeling as those other high-end watch owners. And more importantly – they are very affordable.
Going by the number of positive reviews, we'd say Burei has a wide (and growing) fan base. And they know how to ride on it.
On a positive note, one reviewer noted that the company pioneered some combinations that the originals don't feel like doing.
However, upon a closer look at their models, we personally don't see anything really novel in their collection.
Is Burei A Good Watch Brand?
"Good" is obviously very subjective.  Compared to all of the brands that we've covered on our site, Burei is not one that we'd consider high-quality.
From a watchmaking standpoint, there's really nothing of note. These are mass-produced quartz consumer watches that are quickly assembled and sold worldwide. The brand mostly competes on price.
From a design and stylistic perspective, as we've said – we do not see anything particularly convincing. Most of their designs are directly inspired by traditional watchmakers and very close replicas of well-known watch models. What they do well is pulling it off at bargain prices.
Material-wise, their watches stack up against other inexpensive homage brands in the same price range. Considering the price, the Japanese movements are reliable and of decent quality. The build quality of the case and the mineral glass used it on par (again for the price).
If you like the look of these replica watches, then we'd say go for it. The investment is minimal and you "get what you're looking for", an inexpensive watch that has a very specific look and feel.
If you're curious about other brands that are well-respected for their watchmaking and are not set on the particular style that Burei markets, we'd recommend you take a closer look at brands like Orient or Citizen, Seiko or Timex.
These are century-old brands that have a history of making quality watches. They have iconic styles of their own that stand alone without being an obvious copy of another maker.
If you are set on a Rolex-style watch you might also want to look at brands such as Stuhrling or Invicta, both produce decent hommage style watches.
Where To Buy Burei Watches?
The company sells directly from their online shop and ship to most parts of the world.
Shoppers can shop for Burei watches at Amazon
International shoppers can also find Burei watches on AliExpress.
Where Are Burei Made?
Burei's country of origin, much like their history, is shrouded in mystery. According to their blog, Swiss designer Allen Jay inspired their initial creations. Burei is associated with China-based YIWU BAOSUO any every Burei watch we've seen has been 'Made in China.' Forums also confirmed they are shipped from China.
Are Burei Luxury Watches
This may seem like a very strange question to a lot of watch shoppers. How could a brand that retails for an average $200 or less be considered a luxury brand?
If you thought this was weird, you're right. Burei is not a luxury brand or even in line for consideration. The confusion most likely comes from it's Rolex-like homage timepieces that mimic the general style of luxury watches. However, apart from this, there's nothing luxury about the brand.
Where Burei crosses the line is on its own webpage where it makes claims to "offer luxury watches for its loyal customers" and  "Compared to Rolex watch, Burei not only offers watches of different designs, but these watches are all made of materials in good quality."
Burei Watch Warranty
As if conveniently omitting their physical address on the 'Contact Us' page was not suspicious enough, Burei does not have a detailed product warranty policy. According to the company website, "returns that are soiled, damaged or altered may not be accepted and may be sent back to the customer." Vague doesn't quite capture it.