A Rolex Classic, the Cellini honors traditional timepieces with a modern twist.
Inspired by the Italian artist, Benvenuto Cellini, this edition encapsulates the brand's love for watchmaking, rich history, and technical expertise. A symphony of the old and the new, the Cellini collection perfectly blends conventional watchmaking values with contemporary techniques. All the timepieces part of the Cellini collection come with 18-carat gold with a bracelet or leather strap. Versatile in nature, the Cellini remains one of the most sought after collections from Rolex.
Rolex Cellini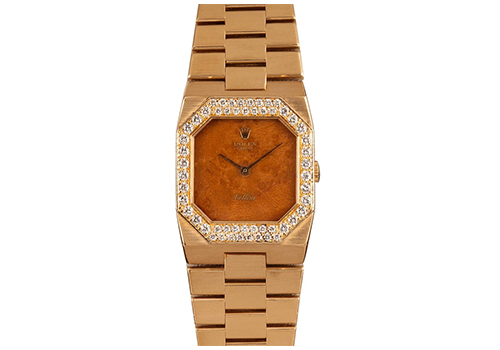 With Cellini's timeless elegant design, Rolex checks all the boxes for luxury, precision, accuracy, and superiority. Originally launched in 2014, the Cellini collection has come a long way since it's inception. Restyled as a dress watch in 2016, the current editions adorn a white dial with golden hour hands. However, this collection slightly departs from Rolex's typical fluted bezel. The modern Cellini comes in a roundish 38 mm diameter case diameter.
Categorically, the Cellini comes in four variants – Cellini Moonphase, Cellini Time with a simple dial, Cellini Date with a subsidiary date dial, and Cellini Dual Time with a secondary sub-dial to read from a different time zone.
Engineered with Rolex's mechanical self-winding perpetual calibre, the Cellini watches are resistant up to 160 ft underwater. Most importantly, with every edition, new features and innovation mark Rolex's top craftsmanship. Given the multi-utility look, the Cellini fits seamlessly for all occasions.
However, owning a Rolex Cellini can range anywhere between four thousand to fifteen thousand USD based on the build, features, and styling. In light of this, many brands offer alternatives or homage to the Rolex at fraction of the price, while retaining the design and looks of the Cellini.
Best Affordable Rolex Cellini Alternatives
In this section, we list alternative and homage watches to the Rolex Cellini across different price ranges. Read below to know more!
Seiko Presage
First on our list is Seiko. A Japan-based brand, famous for household products and electronics has a wide range of affordable watch collections to their name. The wide range of collections will offer you affordable alternatives for almost all luxury brands. For this article, we look at Seiko Presage SPB165J1 that adapts the looks of the Cellini date.
With a round 40 mm case diameter, this timepiece exemplifies a timeless classical look. Powered by Seiko 6R35 caliber with an automatic self-winding movement, the timepiece is water-resistant up to 330 ft. Equipped with a Synthetic Sapphire crystal, the SPB165J1 displays a sporty, yet, authoritative display. Additionally, the Lumibrite coat on the dial allows you to read time in the dark. Hence, if you are looking for an alternative purely based on Rolex Cellini-like look, then Seiko is a good affordable alternative.
Read our review on Seiko here.
Bulova 96B104 Men's Dress Watch

Bulova's heritage draws inspiration from different parts of the world. Although an American brand, the Citizen Watch Company, a Japanese group, is the parent company for Bulova. The brand also manufactures special edition Swiss-made watches known as Bulova Accutron. As an alternative to Rolex, we look at the Bulova 97D120 Men's Futuro Watch. Unlike the rest of the alternatives on the list, Bulova 96B104 is an alternative to the older generation Rolex Cellini.
The Bulova Futuro adorns a golden square shape case with a golden bracelet. The face of the dial displays a simple and sophisticated design; with gems studded at 3, 6, and 9 o'clock. Resistant up to 100 ft underwater, this timepiece comes equipped with a quartz movement. Above all, you can enjoy the glimmering marvel for a fancy night out at a fraction of Rolex's price.
Click here to read more on Bulova watches.
Hamilton Jazzmaster
See on Hamilton | Read Amazon Reviews
Initially, launched as an American brand, Hamilton is currently under the ownership of the Swatch Group. Resultantly, the brand, now set up its base in Bienne, Switzerland. Hamilton offers good quality watches at a reasonable price. Resultantly, this makes them a worthy brand for those who cannot afford high-range luxury watches. In a similar vein as the Cellini, the Hamilton Jazzmaster displays a white dial with a golden encasing.
With a secondary date window at 3 o'clock and seconds marking on the inner bezel, the Jazzmaster H32645555 looks elegant and stylish. Engineered with the H-10 three-hand movement caliber, the timepiece holds 42 hours of power reserve. Moreover, the made in Swiss engraving below the 6 o'clock gives the timepiece the quality assurance and accuracy for mid-level watches. Water-resistant up to 164 ft, this timepiece comes paired with a brown leather strap, complimenting the colors on the dial.
To learn more about Hamilton, read here.
Tissot Le Locle T41.5.413.73

With over 160 years of watchmaking history, Tissot is now a household name across the world. Originally the brand set up its shop in Le Locle, thereby deriving the name as part of its most prestigious collection. Subsequently, the owners changed, paving way for a new future with the Swatch Group ever since the 1980s. For our reference, we look at the Tissot Le Locle T41.5.413.73.
Firstly, with its 38 mm golden dial with brown leader strap, this timepiece harmoniously blends traditional design with modern composition. Consequently, this watch takes after the conventional design of the Rolex Cellini Time and the Cellini Date. Secondly, with a date window at 3 o'clock, Roman numerals marking the hour's hand, and intricate patterns on the face of the dial, one can easily mistake the Le Locle for a Rolex. Above all, the timepiece is available at a fraction of Rolex's price and fits perfectly for all occasions.
Read our review to learn more about the brand.
Zeppelin Moonphase Watch

German watchmakers Zeppelin, famously renowned for manufacturing consistently high-quality quartz watches, takes place in our list as an affordable alternative to the Rolex counterpart. Inspired by the original zeppelin aircraft, this watchmaking brand pursues innovation and technological advancements. The Zeppelin Series LZ129 Hindenburg Moonphase, more particularly, proudly displays a Moonphase complication along with date and day.
For this reason, the Zeppelin LZ129 fits the bill if you are looking for a combination of the Rolex Cellini Moonphase and Rolex Date, together in one timepiece. Equipped with a 40 mm case, the watch comes with a Ronda 706B quartz movement and is water-resistant up to 100 ft. The brand offers shades of white and blue dial, with either stainless steel bracelet or leather strap.
To learn more about the brand, read here.
Orient RA-AC0010S

Another Japanese watch brand on the list, Orient, may probably be the most affordable being on the lower end of the price range. The RA-AC0010S draws inspiration from the modern-day Cellini with its white dial, golden case, and a leather strap. Equipped with a 36mm case diameter, this timepiece comes with automatic self-winding functionality. Additionally, it showcases a date window and is water-resistant up to almost 100 ft.
If you are on the lookout for a simple, clean design that suits all-purpose and occasions at a bare minimum price, this timepiece could answer your needs.
Learn more about the brand with our review here.
Timex Marlin
See on Timex | Read Amazon Reviews
Timex, an American brand founded in 1854, provides affordable watches. The Timex Marlin, more specifically, works as a good substitute for the Rolex Cellini Time edition. With a simple dial, timeless design, and elegant looks, the Timex Marlin can be a good multi-utility watch, much like the Rolex counterpart.
Available in different versions of stainless steel bracelet or leather strap, you can also choose between a black or white dial, with a touch of gold or silver case. This 40 mm case watch is water-resistant up to 100 ft and also comes with 40 hours of power reserve. Additionally, Timex Marlin comes powered with a 21-jewel automatic movement and showcases the date at 3 o'clock.
Read more about Timex here.
Omega Globemaster

A Swiss watch brand, Omega is a luxury alternative if you are looking for a luxury watch without the Rolex tag. Omega's 170 years of watchmaking history speaks to its rich technical know-how and attention to detail. The Omega Globemaster, especially, is a worthy luxury alternative to the Rolex. With Rolex like fluted bezel, the Globemaster
Moreover, Omega offers a five-year warranty on their timepieces. The special features of this watch include anti-magnetic components and a master chronometer certification. These ensure accuracy and precision even after years of use. Designed with a 39 mm case diameter, the timepiece uses 18-carat gold, much like the Cellini. Above all, the delightful combination of classic and modern values with the most alluring design makes it hard to resist.
IWC Portofino

Influenced by the Mediterranean way of life, the IWC Portofino epitomizes sophistication and a laid-back lifestyle. With minimal designing, the IWC Portofino is a great alternative to the Rolex Cellini Time and Cellini Moonphase. The timepiece comes designed with a simple white dial, Roman numerals, and a date window at 3 o'clock.
Additionally, the brand also launched another variant of the IWC Portofino in 2019 with 18-carat 5N gold and 104 diamonds embossed on the silver plate dial. All these different editions give you the opportunity to find a suitable Rolex Cellini alternative of your choice. Powered with 35111 automatic Calibre, the timepieces have 40 mm case diameter and water resistance up to 100 ft. Above all, the relative affordability of this luxury brand makes it a good alternative to Rolex's expensive price tag.
Read about IWC here.
Stührling 3997Z

The most affordable watch on the list, Stührling 3997Z, proudly showcases a minimalistic design. Although not entirely similar on the lines of a Rolex Cellini, this Stührling comes with some similar features. For instance, one of the variants of this edition comes in a white dial, gold encasing, and a brown leather strap. Thereby, Stührling offers a harmonious symphony of innovation, fashion, and utility with this timepiece.
With a simple movement and a clean design, the timepiece is water-resistant up to 160 ft. Additionally, the brand offers two years warranty for this below hundred USD watch, which makes it a worthy but super affordable alternative. Moreover, the brand takes pride in this timepiece for its ultra-thin case.
You can find more information about the brand here.
The Longines Master Collection

A Swiss watchmaker, Longines makes its way on the list as a luxury alternative to Rolex. In particular, if you are looking for an affordable alternative to the Cellini Moonphase, the Longines Master Collection is a worthy contender. More specifically, the L2.909.4.78.6 model draws influence from the Cellini Moonphase's designing and looks. With a similar white dial, the Longines's Moonphase sub-dial is located above 6 o'clock.
This 40 mm timepiece comes with a two-year warranty and water resistance up to 100 ft. Powered with the L899 self-winding mechanical movement caliber, the timepiece proves 64 hours of power reserve. The detailing on the face of the watch resembles the Cellini with the secondary hour hands marked on the inner bezel. Although not entirely on the cheaper price range, the Longines offers quality watches that are sturdy and ensure longevity.
Check Amazon Prices on all Longines Master Collection watches here.
Click here to learn more about the brand.