Are you currently in the market for a mid-range women's watch? Ladies' watches within this price range deliver on timekeeping reliability, excellent craftsmanship, and impeccable design. The watches we have compiled comprise all these aspects and more. As a gift or as the final piece of your attire, these watches will help carry the wearer with confidence and grace.
We've included classy and elegant dress timepieces as well as some unique modern designs for the more daring. A couple of sporty watches also made the list for our more athletic women audience. Let's begin our rundown of some of the best women's watches that are all under $500.
(Please note: All prices were checked at the time of publishing and all watches were selling online for $500 or less. However, prices may have fluctuated since then possibly pushing them over the original budget).
Best Women's Watches Under $500
Citizen Women's Eco-Drive Leather Strap Watch
Read Amazon Reviews | See on Citizenwatch.com
This Citizen Eco-Drive Leather Strap watch shows that you don't need to provide numerous fancy inclusions in a design to make it eye-catching. Sometimes all you need is a clear goal and impeccably delivering on that.
This women's timepiece features a pretty traditional and straightforward design. However, the black and gold aesthetic enhanced its appearance by a significant margin. The black dial and three-hand gold-finished watch complement each other quite well visually.
As with all Citizen watches, this timepiece uses top-notch Japanese quartz movement. It also has a date display which is located at the three o'clock position. This is a sleek and sexy traditional women's timepiece for ladies with a mysterious streak.
Skagen Connected Signatur T-Bar Smartwatch
Read Amazon Reviews | See on Skagen.com
The Skagen T-Bar Smartwatch is an excellent option for ladies looking for a stylish timepiece with modern features in tow. At first glance, it is easy to label the T-Bar as just another classy looking dress watch. But underneath its alluring traditional design is an advanced smartwatch.
As you would expect from a smartwatch, the Skagen T-Bar is a feature-rich timepiece. It comes with all the basic smartwatch functionalities such as smartphone connectivity and notification. Also, it sports activity tracking capabilities, sleeping quality monitor, and automatic time zone updates.
We welcome its subtle approach with its notification alerts. The Skagen T-Bar generates a gentle vibration whenever you have a new message or incoming call from your smartphone. Battery life is always a factor to consider with smartphones. Fortunately, the T-Bar delivers a substantial number in this area. The watch has a 4-month battery life on a single charge. This is possible thanks to its more conservative approach to its smartwatch features.
Overall, this is a solid smartwatch that can easily pass as a traditional dress watch. It comes at a sleek 36mm diameter case and is also water-resistant for up to 30m. The watch is compatible with smartphones that have Android OS 5.0 and iOS 9.0 and above.
Victorinox Swiss Army Maverick Watch
Read Amazon Reviews | See on Victorinox.com

Victorinox is known for having some of the best-looking accessories around. Their modern minimalist approach to their aesthetic while still being quite practical and functional is a sweet spot that not all manufacturers can find. The Victorinox Swiss Army Maverick is an excellent example of this blend of simplicity and functionality.
Let's go over the exterior first. The Ladies Maverick Watch features a unidirectional bezel and a counter scale. The case, which measures at 34mm in diameter, uses hypoallergenic stainless-steel material. The polished silver also partners quite well with the striking blue dial, which is a popular color combination with most timepieces.
It is suitable for both everyday use and formal gatherings as well. The triple-coated anti-reflective glass allows for excellent legibility even when outdoors. Also, the glass is made from durable sapphire crystal which is resistant to scratches.
Overall, while the appearance of the Victorinox Maverick is similar to other timepiece designs, it is undoubtedly one of the most durable and dependable in the market.
Bulova Women's 98P121 Highbridge Watch
Bulova is known for producing timepieces that are steep in both elegance and tradition, two elements that the 98P121 Women's Highbridge watch delivers with confidence. With a shiny stainless-steel case, bracelet, and bezel appearance, the Highbridge certainly exudes that certain panache of elegance that makes it quite a dazzling accessory. Also, it features a ceramic top that pushes it past most of its competition within its price range.
The mother of pearl dial features some of the most refined design choices this side of women's watches. With a total of eight diamond embedded markers and silver-toned luminous hands, the Bulova Highbridge certainly captures that extravagant quality in spades.
Some of the additional features of note include a date display that is located over at the three o'clock position. It also comes with a decent 90-feet water resistance construction. Within its modest 30mm case diameter is the always reliable Japanese quartz movement for excellent timekeeping.
Orient Fashionable Butterfly Automatic Watch
Orient is another well-respected Japan-based watchmaker company. While often not in the same breath as Citizen or Seiko, Orient is still a highly recommended brand that comes with its own unique set of qualities.
The Orient Butterfly Watch features the open-heart design that is always a striking feature in a timepiece. However, this time around Orient saw fit to craft the open-heart aesthetic into a butterfly-shaped opening.
Again, the mother of pearl aesthetic is showcased in the Butterfly Automatic watch. It is quite a safe approach as mother of pearl dials are quite visually charming. The open-heart feature also benefits significantly from the Japanese automatic movement inside. This is an elegant and classy timepiece for women that also packs that distinctive skeleton design.
Fossil Women's Virginia Watch
Read Amazon Reviews | See on Fossil.com

Fossil always has blended fashion with functionality quite well. The Fossil Virginia continues this tradition with quite a refined timepiece that blends chic, smart looks with extravagant flair. This crystal-studded timepiece takes advantage of every facet of the watch in creating a truly majestic appearance.
With a dial diameter of 30mm, the Virginia watch is quite small and perfect for petite wrists. The dial and bezel are all crystal studded. The dial feature eight crystalized markers and four Roman numerals. The band uses the clap closure, and the watch itself is made to provide water resistance for up to 165 feet.
The watch also uses Japanese quartz movement with an analog display. This is overall a traditional watch with an added emphasis on a glamorous appeal that makes it perfect for the red carpet-type events
Victorinox Swiss Army Women's Alliance Sports Watch
The Victorinox Swiss Army Ladies Alliance delivers a more "rough and tumble" timepiece compared to the other entries in this list. This one is also slightly bulkier; however, it still manages to deliver quite a comfortable fit.
The robust appearance isn't just for the show as well. This watch is designed to last. It features a durable stainless-steel case and bezel with sapphire crystal which enhances its durability and scratch-resistance quite significantly.
Within the case are a Japanese quartz movement and analog display which delivers excellent precision and accuracy. The watch is also designed to have 330-feet water resistance. This is for the ladies who are looking for a watch that can match up with male counterparts in terms of robust design. The Victorinox Swiss Army Alliance offers just the right balance between masculine and feminine.
Citizen Women's World Time A-T Eco-Drive
Read Amazon Reviews | See on Citizenwatch.com

One can say that the Citizen Women's World Time A-T watch embodies the modern woman. Not only is the timepiece quite feminine, but it also features top-notch functionality and reliability. It comes with a design likened to most executive style watches for men.
In terms of functionality, this timepiece comes with the signature Citizen Eco-Drive. With its ability to recharge its batteries using natural and artificial lighting, longevity is not an issue. It also features A-T timekeeping which allows it to stay up to date with time zones via radio signals.
The attractive design of World Time is just as impressive as its features. It also uses a mother of pearl dial. With the golden visage in tow, this Citizen watch showcases a confident, no-nonsense approach to its aesthetics while still maintaining a feminine look.
Michael Kors MK5145 Chronograph Watch
Women's watches are not just for show, though. Nowadays, looking pretty can only take you so far. That is why women's watches have also adapted and leaned on over to improve upon functionality as well. That is not to say that style is being pushed over the backburner. Far from it, like the Michael Kors MK5145 Chronograph watch displays.
With its combination of pristine white and gold accents, the Michael Kors MK5145 chronograph watch is an excellent choice for women who want style and functionality. It has a slightly smaller case at only 38mm in diameter. The silicone band is quite durable and comfortable on the skin as well.
It comes with standard three analog sub-dials that track hours, minutes, and seconds. It also utilizes the Japanese quartz movement with an analog display. It certainly delivers that luxury aesthetics and offers wearers added functionality.
This is a genuinely attention-grabbing timepiece that will fit with most attires from everyday use to formal occasions. This women's chronograph watch is well-worth your money and time, pun intended.
Fossil Women's ES3588 Stella Multifunction Stainless Steel Watch
Read Amazon Reviews | See on Fossil.com

Fossil gets another entry in this list with their Stella Multifunction watch. This time around, Fossil delivers a chronograph women's watch and does so in impressive fashion. Chronograph watches are not commonly associated with the word elegant, but the Stella watch managed to deliver in that regard.
For a chronograph watch, this certainly looks like it will easily fit right in a formal gathering with its crystal-studded bezel. Its polished silver stainless steel appearance also gives it that premium appeal. As this is a chronograph watch, it comes with the standard three sub-dials.
To make sure it delivers in terms of timekeeping accuracy, the Stella utilizes quartz movement with an analog display. It also has a decent 50m water resistance rating as well for added reliability.
Rado Women's Diastar Original
Rado is another well-established Swiss-based watchmaker company in the industry. With their unique signature style and their focus on innovation, Rado is undoubtedly one of the few brands highly regarded brands at the moment. The Rado Diastar Original certainly convincingly embodies these qualities.
The all-gold finish with crystal studs and the red Rado logo on the dial is top-notch design. It will deliver that high-end luxury appeal that women will adore. The polished gold aesthetic is always a striking visual, compound that with crystal studs, you have yourself quite a nice-looking timepiece. See more of our favorite Rado women's watches here.
Well, let us go over the features, shall we? First off, the Rado Diastar utilizes the Swiss automatic movement. It also has a date display positioned at the six o'clock location. The crystal markers further accentuate that lavish look. Also, it has a water resistance rating of up to 30m.
Seiko Women's SUT068 Watch
When it comes to Seiko watches, you can expect it to deliver in both sizzle and steak. This holds with the Seiko SUT068 with its stylish design and excellent features. Features that we will be pointing out in this quick little overview.
With its petite construction, the SUT068 is among the most comfortable women's timepieces around. It is lightweight and does not chaff on the wrist. Not surprisingly, Seiko decided on giving the SUT068 a mother of pearl dial design. The spotless white dial is perfectly partnered up with the gold markers, and gold outlined hands.
It features an analog display powered by a Japanese quartz movement. It also has a date display over at the three o'clock position. The dial is also protected by the highly durable Hardlex glass window which provides more than adequate protection from impacts and scratches.
Also, the Seiko SUT068 comes equipped with solar power technology. The batter cell within this beautiful decorous timepiece can charge using both natural and artificial light. Visually stunning and functional, just what you expect from Seiko.
Citizen Women's Eco-Drive Watch EW1544-53A
Time to start bringing out the 'Big Guns' of the industry. We've already showcased one watch model from Seiko; it's time to give Citizen the spotlight next. The Citizen Eco-Drive EW1544-53A certainly takes a lot of cues from other popular models when it comes to its design.
With silver and gold-toned design, this Citizen Eco-Drive crafts quite a remarkable looking timepiece. It still manages to stay grounded and craft a conservative design. This is good news for those who prefer something visually pleasing but is still somewhat low-key.
The stainless-steel case measures in at 26mm in diameter, which is a good number for women's watches. The gold bezel helps accentuate the overall look of the case. The bracelet features two gold line segments that break the monotony of the silver.
This timepiece uses Japanese quartz movement with analog display. A durable mineral crystal window also protects the dial. Additional noteworthy features include a calendar window that is located over at the three o'clock position. It also utilizes Citizen's Eco-Drive technology gives it the ability to charge via sunlight.
Tissot Trend Pinky Silver Dial Watch
Tissot delivers a casual dress women's watch that is tougher than it looks. Utilizing ETA F03.111 Swiss quartz movement with analog display, you can expect the Tissot Trend Pinky to deliver excellent precision. It uses a looping band that gives it the appearance of a bracelet. Loosened enough and it pretty much is.
It features a 28mm stainless steel case with a brown leather band. The sleek case fits perfectly with its moniker, Trend Pinky. The white is merged with gray hands and markers to deliver a subtle sense of maturity to this preppy timepiece.
Michael Kors Parker Glitz Watch
Read Amazon Reviews | See on Michaelkors.com

Michael Kors makes another appearance in this list. This time, with their Parker Glitz watch. As you would expect from the name of this watch model, it features quite a feminine design. With its multitude of crystal studs, the Parker Glitz earns the "glitz" in its moniker. However, this is not just a stylish women's watch. It is also a chronograph as well.
The Michael Kors Parker Glitz manages to deliver a bold statement with its brilliant crystal-studded design. The chronograph sub-dials provide added functionality that is not common in women's watches with this type of aesthetics.
With its sparkling crystal-infused bezel and bracelet, the Parker Glitz offers an excellent blend of style and substance.
Swarovski Crystalline Oval Rose Gold Bracelet Watch
Swarovski is a well-known manufacturer of accessories and pieces of jewelry; it is only natural for them to have one of the most stunning women's watches as well. The Swarovski Crystalline provides quite a visually unique take on timepieces. It has an oval-shaped case, combined with gold accents on the eggshell white band and case.
One impressive aspect of this particular women's watch is that it utilizes around 1,700 crystals to complete its look. It also has a unique two ring case design, with the outer ring providing the oval-shaped appearance, while the second ring is more of a traditional round case.
It features an analog quartz movement contained within its 37mm diameter case. The case itself has a gentle curvature that bends around the wrist for improved comfort. It also comes with a somewhat surprising water resistance of up to 100-feet. With its stunning design, water resistance isn't exactly a feature that you would expect.
Citizen Women's Eco-Drive Corso EW2290-54L
Read Amazon Reviews | See on Citizenwatch.com

Let's start this list with one from Citizen watches. The Eco-Drive EW2290-54L features a pretty robust design with its sold stainless-steel case. However, it is a much sleeker version at only 28mm in diameter. It comes with a bracelet with a fold-over clasp, making it quite easy to wear and remove while maintaining security and comfort.
Inside the small frame is the ever-reliable Japanese quartz movement with analog display. The metallic blue dial delivers that premium appeal while the chrome silver markers and hands offer excellent legibility. This timepiece also features a date display that is positioned over at three o'clock.
The hour and minute hands are also coated with a luminous finish for enhanced visibility in low-light environments. This watch also comes with a solid 100m water resistance rating. Making it suitable for swimming and other light water activities.
Overall, the Citizen Women's Eco-Drive EW2290-54L is an excellent choice for women who are looking for an executive-style watch. It exudes a professional and sophisticated aesthetic that compliments the modern working woman quite well.
Seiko SUP284 Tressia Watch
The Seiko Tressia is a petite and feminine timepiece that will go well with your red-carpet attire. With its mother of pearl dial further enhancing the luxury aesthetic, this is one timepiece designed to turn heads.
The Tressia features quite a sleek and small case that measures only 22mm in diameter. While it may have a delicate appearance, it is well-made and durable. A Hardlex crystal window protects the mother of pearl dial. The outer rim of the watch is also infused with crystals for that added exquisite beauty.
The material used in the construction of Tressia is titanium which gives it that added overall durability. Within this timepiece is a Japanese quartz movement with an analog display. It also comes with water resistance for up to 99-feet. This allows it to withstand the occasional splash of water and from drops of rain.
The Seiko Ladies Tressia may appear fragile, but it is surprisingly robust. Just like your everyday Disney princess.
Movado Women's BOLD Bangel Watch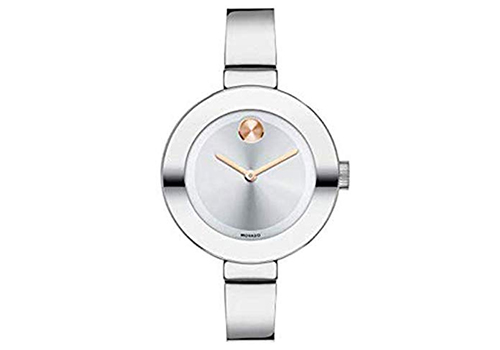 Movado has developed a signature look over the years, and that is with its modern minimalist approach to aesthetics. The Movado BOLD carries on this signature style with its simple yet elegant design. The chrome silver finish is quite pleasing to the eyes. This design choice also fits quite well with Movado's theme.
Surprisingly enough, the Movado BOLD is slightly larger with its 34mm in diameter shiny stainless-steel case. The dial features a pristine appearance as well. No marker, just the gold-toned hands and the signature Movado dot at the 12 o'clock position.
Movado is not only well-known for its distinct style though. In terms of precision, the Movado BOLD can efficiently run with some of the best in this category. With its Swiss quartz movement, it manages to deliver a highly precise timekeeping capability.
The superior craftsmanship of this watch is secured with its K1 mineral crystal glass. This material is highly regarded due to its high scratch resistance and durability. It even surpasses the qualities of the current watch industry-standard glass, sapphire crystal.
Bulova Women's Marine Star Diamond Bracelet Watch
The Bulova Marine Star brings a dash of class with its diamond-studded design. The timepiece utilizes the always practical two-tone approach of combining silver and gold. Two colors that will always exude an air of elegance and sophistication. However, the Marine Star takes it a step further with its addition of 23 diamonds that are embedded around the bezel.
There are six separate diamond-studded sections around the bezel. Each segment divided by a gold-toned divider. In terms of design, the Marine Star may seem simple, but upon closer inspection, you will notice that everything is calculated.
The Marine Star Diamond features a sleek 32mm diameter stainless steel case. It also features a sturdy stainless steel bracelet with a rose gold accent. To further highlight its feminine focus in design, the inner dial is made from mother of pearl material.
As for the inner workings of this watch, it features an analog quartz movement. The dial is encased in a sturdy yet elegant sapphire crystal window. It is also constructed to provide 100m water resistance. Quite simply, the Marine Star Diamond radiates with confidence and femininity.
Fossil Women's Jacqueline Watch
Fossil is known for its versatile watch options ranging from luxury to casual timepieces. The Jacqueline is part of the latter and is quite an excellent casual everyday watch that maintains a premium appeal. Fossil has always been a fashion-centric brand, which makes it a safe choice for those who are merely looking for a visually striking watch to wear for specific occasions.
The Fossil Jacqueline comes with a sturdy leather calfskin band with traditional buckle closure. The case is where it placed all its marbles in terms of design. The stainless-steel 36mm case comes with a gold finish with silver accents.
The dial incorporates a pristine yet straightforward white finish while the sleek hands and markers are coated with polished gold. The markers utilize Roman numerals for that subtle, refined aesthetic. It also comes with a date window that is situated at the six o'clock position. The dial is encased in mineral crystal glass which is not the most hardened window material.
Overall, this is a more conservative women's watch that appeals to those who prefer something a little more low-key.
Tissot Women's Le Locle Silver Dial Automatic Watch
Tissot is among the brands known for its impeccable quality in both design and functionality. Le Locle continues this tradition with its traditional high-end construction. The timepiece features a full stainless-steel metallic design. Both the case and bracelet are all made from high-grade stainless-steel so expected excellent durability with this timepiece.
Le Locle does not offer much in terms of features, but that is quite fine. Especially since this timepiece delivers on Tissot's signature qualities, it also comes with a self-winding automatic movement that provides excellent precision.
The dial delivers a flair of gracefulness with its design. The addition of a date display which is located on the three o'clock position is also a welcome inclusion. The beautiful dial is encased in sturdy sapphire crystal, which is known for being extremely resistant to scratch damage. If you enjoy a traditional timepiece, Tissot is a good brand to start your search.
Bulova Women's 98L157 Two-Tone Bracelet Watch
The Bulova 98L157 features a delightful fusion of retro and modern aesthetics. The rectangular case (which measures at a petite 21.5mm in diameter) is an excellent choice for those with smaller hands. Within the clear mineral crystal window is a mother of pearl dial that augments its overall luxury appeal.
This is a stainless-steel case and bracelet with gold accents, which is a pretty typical design choice nowadays. I'm not complaining as this is quite a visually attractive design. When it comes to functionality, the Bulova 90L157 uses quartz movement with an analog display. Also, it has a 30m water resistance rating which allows it to withstand splashes of water and a bit of rain as well.
Seiko Women's SUT213 Silver-Tone Stainless Steel Watch
Whenever you hear the name Seiko, you automatically expect a high-quality timepiece. The SUT213 certainly fits that bill with its sleek design and top-notch functionality. In terms of design, the Seiko SUT213 offers a robust-looking timepiece for women.
It comes in with a 30mm stainless steel case with Hardlex window which provides adequate protection for its mother of pearl dial. The dial features chrome coated hands and Roman numeral markers. It accentuates the overall design of the SUT213, which is a sleek mechanical timepiece.
Feature-wise, this watch is an impressive piece as well. It features a quartz movement with an analog display and uses Seiko's solar-powered technology which pushes its longevity above and beyond. It also holds a water resistance rating of up to 100m as well.
Victorinox Women's Alliance Quartz Stainless Steel Watch
Read Amazon Reviews | See on Victorinox.com
Victorinox once again showcases their unique style when it comes to their watches with the Alliance Quartz. This one features a more grounded and casual look with its leather black leather strap. If that doesn't appeal to you, don't fret! The Alliance comes in a wide variety of variations that are sure to satiate every female watch enthusiast's style.
As the name implies, this timepiece uses quartz movement with the standard analog display. The case diameter is slightly larger at 35mm in diameter but will still fit quite well with the average women's wrist size.
The dial uses sapphire crystal glass which is the industry standard when it comes to reliable and durable watch windows. The lens here is also coated with an anti-reflective finish. As a bonus, the steel case with screw-in back case construction provides the Alliance watch with 100m water resistance as well.
Casio Baby-G Watch
Something for the female outdoor and sports enthusiast out there. You can never go wrong with Casio's G-Shock watch series if you are looking for durability. The Baby-G series features a smaller and more compact design, making this G watch line the right choice for women.
The G-Baby comes with a 38.4mm stainless steel case. This is slightly larger, but it is also miles away more durable than the other entries in this list. In terms of functionality, the G-Baby is no slouch. It features both analog and digital displays as well as being equipped with solar-powered batteries.
It also has LED lighting and is water-resistant for up to 100m. As for other features, it has a stopwatch, countdown timer, battery level indicator, auto calendar, and pre-programmed time zones for 48 cities around the world. '
For ladies who are looking for an outdoor watch, I highly recommend you check out the Casio Baby-G series, check out other recommended ladies G-Shock models here.
Michael Kors Chronograph Watch Dial
Michael Kors watches always deliver in regards to style. Fortunately, MK watches are not just sizzled without steak. The MK Chronograph watch is two-toned gold and a black timepiece with a lean over traditional aesthetics.
As this is a chronograph watch, expect it to have your standard three sub-dials. The stainless steel rose gold case is a bit on the broader side as well with a 39mm diameter. The window is made from mineral glass which is a step below the sapphire glass window.
This watch uses quartz movement with an analog display and uses silicone straps for added comfort on the wrist. The watch is also water-resistant for up to 100m. Overall, this is an excellent sleek looking lightweight chronograph for the ladies who prefer something that provides a somewhat casual-business approach to their watch design.
Zeppelin Princess of the Sky Automatik
Let's start strong with one of the most attention-grabbing timepiece aesthetics, the skeletal watch design. Zeppelin is still a relatively new and lesser-known brand in the watch market. However, based on this watch alone, I think it is safe to say that we should pay closer attention to this watchmaker.
Zeppelin is a German-based watchmaker who, not typecasting here, should give you an idea of the level of craftsmanship to expect. The open-heart design of the Princess of the Sky is not the only element this watch has under its non-existent sleeves.
Its main selling point is that it can be worn on your wrist and as a necklace. This gives the watch more versatility in regards to how it accentuates your attire for the evening. Within the Princess of the Sky's sleek 35mm diameter case is a Miyota 8N24 automatic caliber movement. This movement also features around 40 hours of power reserve.
Swatch New Gent SUOW127 Multicolor Swiss Quartz Watch
Here is something with a little more pep and an ideal watch for those with a perky attitude. This particular timepiece from Swatch is a colorful and durable watch that is perfect for everyday and casual use.
The white floral silicone design gives it a more playful characteristic. It uses a silicone band with a matte finish. The dial is slightly larger than expected at 41mm. As for the dial, it features a full pink face with white hands on the foreground that gives it heightened legibility when checking the time.
The Swatch New Gent is also quite affordable and should be an excellent gift for younger ladies. It also comes with a 30m water resistance giving it that added toughness for a reasonably feminine watch. With its superb and straightforward construction, you can expect this watch to last for quite a long time with proper care.
Movado Harmony Bracelet Watch
You can never go wrong with a bracelet watch for formal gala events. The Movado Harmony Bracelet watch delivers the perfect balance of fashion and function with this sleek timepiece. With its 24mm case diameter, this watch can be easily mistaken as a silver bangle. That being said, within its small frame, lies an excellently crafted watch.
The combination of stainless-steel case and bracelet with diamonds infuses the Harmony bracelet watch with a sense of confidence and sophistication. These are two notable aspects that encapsulate the modern woman.
It features the signature minimalist Movado Museum design as well. The black dial highlights the Museum dot at the top and two silver hands that fit perfectly with the pure black backdrop. Inside this diminutive case is the ever-reliable Japanese quartz movement. See other top Women's Movado Watches Here.
The watch is also designed to offer up to 30m of water resistance. While it is not recommended for swimming and diving, it offers enough protection from the occasional splash of water from the rain.
Thanks for reading!
These are the current cream of the crop in regards to women's watches that are under $500. There are still more splendid women's timepieces out there. But those are reserved for another day. For now, these are the women's watches that take the spotlight, and rightfully earned as well.