Citizen and Bulova watches are well-known for their innovations when it comes to crafting the top of the line timepieces. While Bulova has been a subsidiary of Citizen since 2008, each is unique enough to offer watch aficionados a wide selection of watches with their unique take and signature look.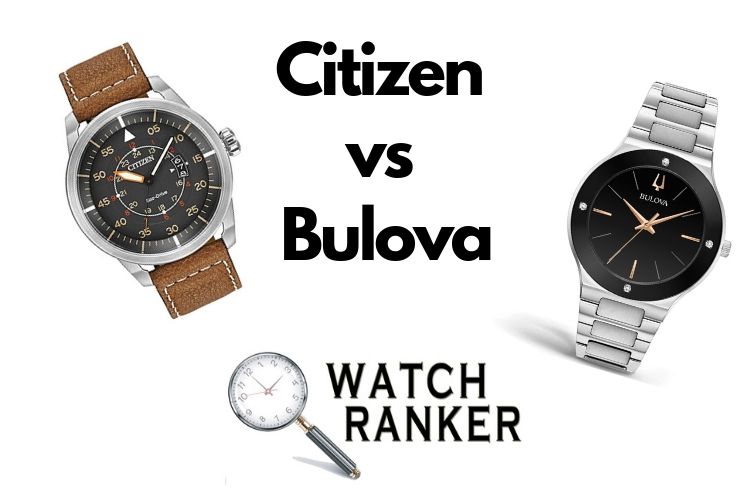 In this article, we will be taking a closer look between Citizen and Bulova watches. We will be comparing specific watches from each that are considered the best in their category.
By the end of this article, we will have a better grasp of the intricacies of each brand and figure out which will suit individual styles and which one exceeds on a particular function. Now then, let us begin with a little introduction to both Citizen and Bulova, shall we?
History of Citizen


Citizen began its humble beginnings in 1918 by Kamekichi Yamazaki, a jeweler from Tokyo, Japan. Initially known as Shokosha Watch Research Institute, they were primarily known for crafting pocket watches. It was not until 1924 when Shokosha was sold and rechristened as Citizen.
As Citizen was a Japanese-based company, it took a substantial financial hit during and after World War II. Fortunately, the company, now under the new leadership of Eiichi Yamada, understood the importance of adapting and evolving for survival.
Hence, Citizen aimed its focus on overseas expansion. Yamada also directed the company into new uncharted territories with revolutionary technological advancements in watch development.
Citizen found its stride during the 1970s when the quartz watch started becoming popular. Citizen spearheaded the quartz watch revolution with a series of top-notch entries in this watch type category.
This was the era that the Citizen X-8 was introduced, a milestone for the company as this watch was the first titanium watch in the market. Citizen also competed with Seiko with their thin watch products.
However, Citizen was most known for their incorporation of solar-powered technology in their watches. The Citizen Cryston Solar Cell was, in fact, the first solar-powered analog quartz watch in the world. This was indeed a groundbreaking moment for Citizen and their watches are among some of the best solar watches available.
They further cemented their place as the premier eco-friendly watchmaker with the Citizen Eco-Drive technology that they unveiled in 1995. This technology powered Citizen watches via not only solar but also artificial light.
Citizen has continued evolving through the decades and is still one of the most popular and well-respected watch companies in the world.
Click here to see our picks for best men's citizen watches.
History of Bulova


We have already touched upon the history of Bulova in previous articles. But let's go through the milestones of Bulova for those who are still not entirely familiar with the story of this famous watchmaker company.
Bulova first began its operations as a jewelry shop in New Your City. Owned and operated by Joseph Bulova, it was not until 1919 when Bulova entered the wristwatch industry. They became officially known as Bulova in 1923.
One of Bulova's most well-known achievements is with their revolutionary marketing campaign in 1931 that helped boost their success in America. A decade later, Bulova once again made waves with the very first television commercial.
During World War II, Bulova shifted its focus on developing timepieces for the U.S. military. After the war, the company once again entered the consumer market. 1952 was a big year for the company as they started developing the world's first electronic watch, the Accutron. NASA also used Bulova's Accutron technology in developing their computers for the Space Race era.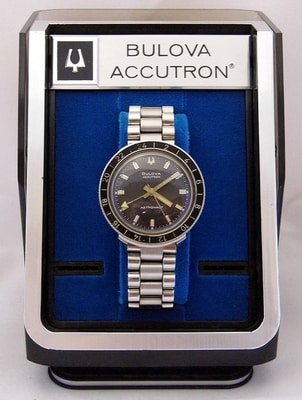 Today, Bulova is still one of the go-to brands for mid-range watches. If you are looking for affordability without sacrificing quality, Bulova is usually among the names of watchmaker companies that you will hear.
Citizen and Bulova Watch Comparisons
As Bulova has been under the banner of Citizen for over a decade now, you might think it is difficult to compare one from the other. Well, both brands stayed true with their core characteristics so we will be able to compare watches here accurately.
Quartz Watches
Quartz watches are known for their precision. This is thanks to the quartz crystal oscillator that offers a considerably more accurate frequency when compared to their mechanical watch counterparts. Both Citizen and Bulova are known for their quartz watch series.
Citizen Avion Eco-Drive Stainless Steel Watch
Read Amazon Reviews of Citizen Avion Eco-Drive
See Citizen Avion Eco-Drive on eBay
The Citizen Avion Eco-Drive incorporates the classic aviation style of the 1950s in its design, which will surely please watch enthusiasts and collectors. The vintage aesthetic is not the only thing the Avion has going for it, remember this is made by Citizen so expect its performance to be top of the line.
The Avion has a 45mm stainless steel case attached to a lux leather strap. It has a stationary bezel with the traditional day and date function display. The hands and digits are also luminous to help improve visibility in low-light environments.
A highly durable mineral crystal protects the dial. The watch is water-resistant for up to 330 feet. With its traditional design, the Avion is an excellent choice for both casual and business use. While its impressive construction and durability also make it a good fit for outdoor use.
Bulova 96B158 Precisionist Leather Strap Watch
Read Amazon Reviews of Bulova Precisionist
See Bulova Precisionist on eBay
The Precisionist watch is one of Bulova's most accurate timepieces in circulation. It incorporates a variation of the Japanese Quartz movement, which is one of the most reliable watch movement technologies used today.
The Japanese Quartz movement ensures that the Precisionist watch is accurate within seconds of the year. This aspect is undoubtedly why the Precisionist watch series is one of Bulova's most sought after watches in the market.
The Bulova Precisionist does not only offer excellent performance though. With its design that combines classic aesthetics with contemporary design, it is one of the most eye-catching watches in this category as well.
The Precisionist incorporates a black dial that is emphasized by gray patterns. The silver hands and markers also lend to its unique appearance. The Bulova Precisionist is a beautifully crafted watch that exudes an air of complexity and mystery, combines with a premier watch movement technology for optimum accuracy.
Chronograph Watches
Chronographs are watch types that can also function as a stopwatch. It features dials that will help wearers keep track of hours, minutes, and seconds. Because of this, it is vital for chronograph watches to provide accurate timekeeping.
Citizen Eco-Drive Silvertone and Black World Time A-T Watch
Read Amazon Reviews of Citizen Eco-Drive World Time
See Citizen Eco-Drive World Time on eBay
The Citizen Eco-Drive A-T Watch is one of the brand's most impressive timepieces in their catalog. By incorporating a full stainless-steel appearance, the A-T watch projects a highly attractive chrome sheen. Even with its full-metal approach in its construction, the Eco-Drive A-T Watch manages to provide a comfortable fit.
The black dial enhances the stainless-steel appearance. The watch's use of Atomic movement technology is one of its strong points as it provides exceptionally efficient timekeeping. Not only is does it come with one of the most reliable timekeeping technologies around, but it is also a competent solar-powered watch.
The dial is protected by a durable sapphire crystal which is known for being extremely resistant to scratches. That factor, in conjunction with its 200m water resistance, makes this watch an ideal outdoor timepiece as well. Additional features include a day and date display which is located on the three o'clock position.
Bulova 98B172 Precisionist Chronograph Watch
Read Amazon Reviews of the Bulova 98B172 Precisionist
See the Bulova 98B172 Precisionist on eBay
Bulova is known for being at the forefront of watch technology advancements; this quality has helped the brand reach new heights and milestones regularly. The 98B172 Precisionist is a perfect example of this quality as it is packed with advanced watch technology while maintaining the traditionalist approach in regards to its overall design.
The 98B172 Precisionist is made from high-quality stainless steel and a beautiful yet durable curved crystal. The watch features silver hands that perfectly compliment the black dial. This helps users to tell the time at a glance quickly.
The water-resistance of this watch is also among its most impressive qualities as it is designed to withstand being submerged up to 990 feet underwater. You will also be pleased to know that everything on the dial is luminous and will be perfectly visible even in low-light environments.
This watch uses quartz movement technology and will provide highly accurate timekeeping. The watch comes in a 46.5mm case and a polyurethane band with buckle closure for added comfort.
Conclusion: Citizen VS Bulova – Which Watches are Better?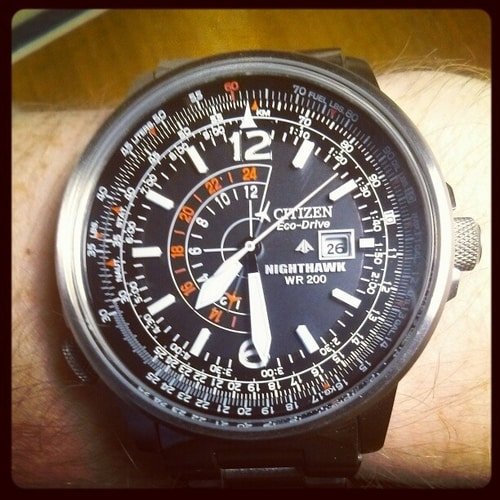 There are two crucial factors if you are at a loss in choosing between Citizen or Bulova watches. Understand that the two offer unique qualities that will help customers determine which watch is better suited for their style and needs.
In regards to having a well-made, accurate, and automatic watch, then Bulova might be better suited for you. Bulova is known for utilizing advancements in watchmaking, so you can expect their watches to provide some nifty additional features.
On the other hand, Citizen is known for its Eco-Drive technology. Their solar-powered watches are known for its longevity. For example, 4-hour exposure to sunlight can effectively power up the Eco-Drive technology in Citizen watches for up to 240 days. Watches from both brands have some similarities in their design, but Citizen has a broader selection to choose from.
Hopefully, this article has helped you determine which between Citizen and Bulova watches are best suited for you. One thing is sure; you won't be disappointed either way with these two famous watchmakers.