Spending a grand on a ladies' watch is no small purchase. At this price range, you've got lots of options. So many that it makes it a confusing decision. At the $1,000 mark and below, you'll find watches from the higher-end collections of many of the established brands.
Our list includes reliable solar-powered Seiko and Citizen watches, elegant Tissot, and Bulova dress watches. You'll also be able to pick up iconic design classics such as the Hamilton Women's Ventura or the Longines Dolce Vita with its Cartier-inspired rectangular tank design.
The watches on this list radiate a level of poise and elegance that you'd expect in this price range, along with high-quality finishes such as gold tones and diamond accents. The construction, design, and material are all top-notch and are not designed to top off your overall look but be an integral part of your attire while also being reliable and functional.
You won't find on this list over-priced watches from fashion brands. All of the watches below come from long-established and well-respected brands in the watchmaking industry, and many of them are Swiss-made.
(Please note that all these watches were found online for $1,000 or less at the time of publishing. Prices may have fluctuated since then, possibly pushing them over our original budget).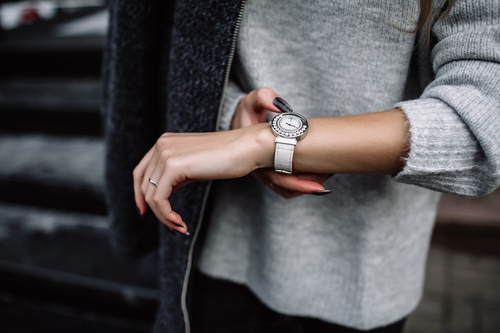 Best Women's Watches Under $1,000
Hamilton Women's Ventura Analog Display Quartz Watch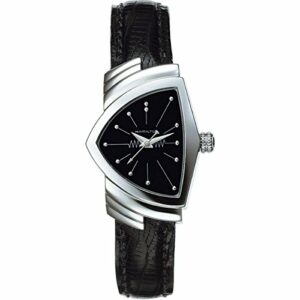 Looking for something a little more casual but still delivers that first-class appeal? The Hamilton Ventura is an excellent timepiece that fits this criterion nicely. The Ventura timepiece has always been an anomaly in design as it both exudes a retro look while maintaining a contemporary appeal, and this iteration indeed continues this tradition.
It features Ventura's signature triangular case design. The stainless-steel case measures 24mm in diameter and incorporates a black leather strap. It certainly balances out an executive watch look with a more casual appeal. The black dial features silver dot markers and hands and has that 20s to 50s sci-fi look.
If you're not a fan of the retro look of the Ventura, there are many stylish Hamilton women's watches under the $1K mark.
Movado Women's BOLD Iconic Yellow Metal Gold Watch
Read Amazon Reviews | See on eBay
Movado has always been a brand that takes up a no-nonsense minimalistic approach in regard to its watch designs. The Movado BOLD Iconic takes this concept and infuses it with the most elegant aesthetic you can think of, an all-gold design.
This Movado women's timepiece comes in a glossy 36mm stainless steel case, and the case itself is ion-plated and features a yellow-gold tone finish. As you would expect from a Movado watch, the dial is pristine, with only the sun-ray dot and hands for display.
The internal workings of the BOLD use the constant Swiss quartz movement with the dial being protected by the superb K1 mineral crystal, which is both shatter and scratch-resistant. Also, this watch comes with an excellent 2-year warranty as long as you purchase it from Movado authorized dealers.
Tissot T-Lady Powermatic 80 Watch
Read Amazon Reviews | See on eBay
The Tissot T-Lady Powermatic 80 features the heft of a premium-grade watch but at a lighter and more compact frame. With its high price tag, it is not surprising to find high-quality material and construction infused with the T-Lady Powermatic 80.
The watch features a beautiful white mother of pearl dial with radial brown steel placed in the middle. It also incorporates rose gold hands and markers, which perfectly balances out the aesthetic of its dial. Within its 34mm diameter case is an automatic mechanical movement that provides excellent accuracy.
The white mother of pearl dial is encased in a durable and scratch-resistant sapphire crystal window. The Powermatic 80 also has a decent water resistance rating of 50 meters.
Bulova Women's RUBAIYAT Analog Display Quartz Watch
Read Amazon Reviews | See on eBay
Aesthetically pleasing with its polished blue dial and crystal-studded silver case, the RUBAIYAT takes the classic design and pushes further than ever before. The stainless-steel case measures 35mm and utilizes the "Goddess of Time" back case design.
You will also appreciate the 36 diamond pieces meticulously embedded as markers on the dial. There are also crystals at the clasp that connect the case with the bracelet. The bracelet utilizes double-press deploy closure that locks in place while still relatively easy to detach.
The RUBAIYAT's impeccable blue analog display dial is a reliable and precise quartz movement. It also comes with water resistance for up to 30 meters, so you won't need to worry about getting caught in the rain with this stunning Bulova timepiece.
Raymond Weil Women's Jasmine Stainless-Steel Watch
Read Amazon Reviews | See on eBay
The Raymond Weil Jasmine is one of the most aesthetically pleasing timepieces you will find today. This probably stems from its design of incorporating smooth edges on its 35mm case, bracelet, and dial.
With its Swiss quartz movement, you can expect the Jasmine watch to deliver excellent accuracy in timekeeping. The case also incorporates a sapphire crystal window with an anti-reflective coating, add that to its high scratch resistance, and you have a top-quality dial window.
The smooth round design of the Jasmine is undoubtedly its most attractive feature. The two-toned silver and rose gold aesthetic complement this design choice and will be a perfect timepiece companion for women with a lively and bubbly personality.

RADO Women's R20786152 Integral Black Dial Watch
Read Amazon Reviews | See on eBay
RADO watches always deliver that timeless classic look with their sleek rectangular timepieces. This time around, we have a beautiful black watch with silver accents. What further heightens the overall elegance of this watch is the fact that it is a ceramic timepiece.
The Integral uses quality quartz movement with an analog display. The black dial with silver hands and linear markers is encased within a sturdy scratch-resistant sapphire crystal window. The case is incredibly compact and sleek at only 19mm in diameter — also, the RADO Integral sports a 30m water resistance rating.
This is a fabulous dress and business watch for the modern woman who still enjoys the obvious perks of traditional timepieces.

Tissot Women's T048.217.27.017.00 White Dial T-Race Watch
Read Amazon Reviews | See on eBay
For the thrill-seeking and adventurous ladies out there comes the Tissot T-Race watch. This particular variation of the famous Tissot watch line features a white and gold-tone design. This excellent color pairing highlights the specific watch's lean towards the female customer base.
The T-Race is flush with functionality with its chronograph features. The watch measures a cozy 37mm in diameter, and this is quite surprising considering its compact frame has a built-in barometer, compass, altimeter, and thermometer.
The dial utilizes gold markers and hands. This sports watch features three sub-dials and comes with a scratch-resistant sapphire crystal with an anti-reflective coating. The watch is also water-resistant for up to 100 meters, making it suitable for a quick dip and other light water activities.
Citizen Women's Eco-Drive Chronograph Watch with Diamond Accents
Read Amazon Reviews | See on Citizen
The Citizen Eco-Drive Chronograph with Diamond Accents Watch delivers an impeccable level of poise, confidence, and elegance with its all silver with crystal stud design. This is also a chronograph watch, which means not only is it magnificent aesthetically, it also comes with great functionality.
The watch comes with a polished silver stainless steel case that measures 40 mm in diameter, and the three-link bracelet also comes with the same sheen as the case. Inside this relatively larger women's watch is a Japanese quartz movement that powers the dial and sub-dials.
Additional premium features include a ceramic bezel embedded with beautiful diamond pieces. The chronograph feature is a date window and a 100-meter water resistance rating. If you are looking for an elegant timepiece that also packs quite a punch, this one fits the mold you are looking for entirely.

Seiko Sportura Automatic Watch
Read Amazon Reviews | See on eBay
Seiko is synonymous with quality watches, and the Sportura is another excellent entry to their catalog, not to mention their women's watch line. As the name implies, the Sportura is designed with less about elegance and more on a robust and function-rich construction.
That is not saying that it is not stylish. Far from it, it features a semi-skeletal design within the dial that lets you take a peek at its inner workings. The white, silver, and gold color motif also gives the Sportura added sizzle to its meaty steak.
With a Japanese automatic movement and a combination of plated steel and ceramic construction, the Seiko Sportura is top-tier craftsmanship from the world-renowned watchmaker.
Victorinox Women's Alliance
Read Amazon Reviews | See on eBay
Victorinox watches are always known for their performance and traditional design efficiency. The Victorinox 24663 Analog watch integrates a classic look with its silver case and bracelet. The dial features Arabic numerals on a white backdrop, and the markers and hands all feature a silver finish that accentuates the pristine background.
This Victorinox watch has a relatively petite size, a case that measures 28mm in diameter. The dial is encased within the industry-standard sapphire crystal window, and the watch also has a relatively large date window located over the three o'clock position.
Movado Women's Amorosa Watch
Read Amazon Reviews | See on eBay
Another entry from Movado cracks our list. Similar to the first Movado entry, BOLD, the Amorosa features the brand's signature minimalistic design. If you felt that the BOLD was still too bulky for your taste, the Amorosa is a sleeker alternative that is more akin to a bracelet/bangle than a traditional wristwatch.
As with all Movado watches, the Amorosa features a minimalist design with only the Movado "dot" and hands featured on the dial. This timepiece features a 24 mm in diameter stainless steel case. In addition to the gold accent integrated into its mostly silver design, the Amorosa comes with diamond-studded sections on the bracelet.
While it does appear fragile, the Movado Amorosa features sapphire crystal glass, which is incredibly sturdy. The overall construction of the watch is also top-notch as well. As for its timekeeping accuracy, the Amorosa utilizes a Swiss quartz movement, which ensures reliability in this regard.

Frederique Constant Women's Slimline Moonphase Watch
Read Amazon Reviews | See on eBay
Frederique Constant Moonphase certainly brought its unique brand of charm to the table. The Moonphase delivers an almost fairytale-like aesthetic, which will give it many points with its target market.
The Moonphase features a Swiss quartz movement with an analog display that pretty much covers up its reliability and precision. The white dial also features crystal embedded markers, and there is a lovely moon and stars design included in it.
It is slightly larger with a 30mm stainless steel case but small enough for more petite hands. Also of note is its 30 meters water resistance rating. Overall, while it sports a reasonably safe and traditional design, it does so with confidence and injects some refined charm to help separate it from the pack.
Seiko Prospex Solar Divers Watch
You will notice a common thread whenever a Seiko watch is introduced in this list: reliability and functionality. The Seiko Prospex is one of their most durable lines, so it is natural to include the women's variant of this watch on this list.
Besides its smaller construction, there are little to no feminine qualities in this watch. It also takes cues from the standard Prospex design, which forgoes any bells and whistles in favor of a "to-the-point" approach.
The watch uses a stainless-steel case and bracelet with a black bezel and dial. It also features a date display over the three o'clock position. As this is a diver's watch, it provides wearers with up to 200 meters of water resistance — a perfect companion for ladies who enjoy swimming, snorkeling, and other water sports activities.
Citizen Eco-Drive World Chronograph A-T Watch FC5006-55A
See on Amazon | See on Citizenwatch.com
For women who enjoy traveling in style, the Citizen Eco-Drive Chronograph A-T World Watch will be an excellent timepiece to have by your side. The overall aesthetic features a traditional look but an added layer of elegance with its silver and gold-tone.
This Citizen world chronograph watch is their signature Japanese quartz movement with an analog display. It features the three sub-dial functionality and an Atomic timekeeping technology that allows wearers to check up to 26 different time zones.
Since it has the Eco-Drive moniker, you can also recharge this watch via natural sunlight and artificial light. Thus, giving it a further edge when it comes to longevity.
Longines Dolce Vita Ladies Watch
Finally, we reach the end of our list, so let's end it with a timepiece that fully embraces its feminine design. The Longines Dolce Vita features the classic rectangular case design, which also significantly reduces the overall size of the case down to 20 mm in diameter.
This watch incorporates Japanese quartz movement with an analog display. The dial also takes on traditional aesthetics with its Roman numeral markers. The Dolce Vita utilizes two prominent hands (hour and minute) and a smaller sub-dial on the six o'clock position, which denotes the seconds.
Overall, while the Longines may not come packaged with some modern watch features, it does a fantastic job of delivering a timepiece that emanates grace and sophistication.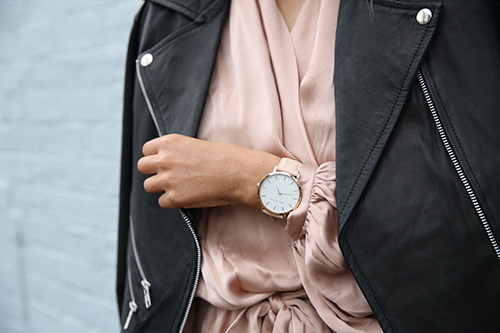 Each entry highlights all the qualities you would want in a premium timepiece, but with a dash of that feminine aesthetic for our women watch enthusiasts.
Featured Image by Marta Branco